New
Best seller
Realistic Tattooing Bundle: Online Seminar + 4 Tattoos
with Coreh López
Coreh López is sponsored by:

6. 10 Masters Certificate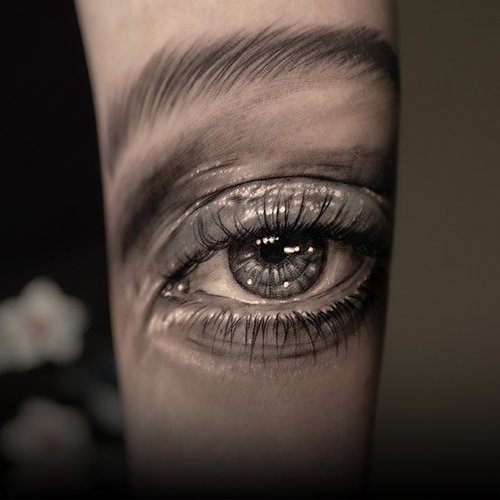 1. Realistic Eye
2. Woman Portrait
3. Celebrity Portrait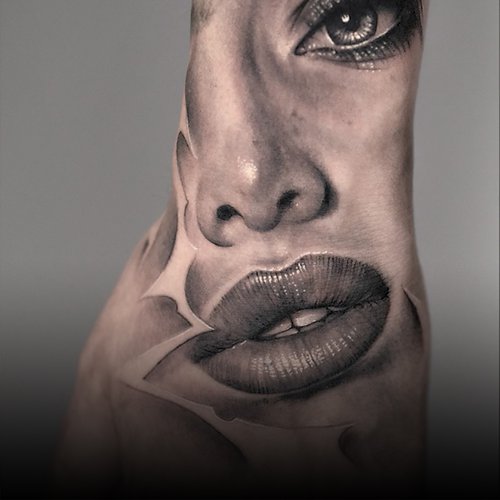 4. Portrait on a hand
5. E-books included
6. 10 Masters Certificate
"Designed exclusively to level up your upcoming realistic tattoos"
My name is Coreh López, I've been tattooing for 11 years and my speciality is tattooing Realism. My obsession is to find the right middle-ground between an eye-catching result and create tattoos that don't fade over time. In this online course package, I'll teach you how I've achieved this, explaining all the methodology and techniques, and showing you how I create 4 realistic tattoos, step by step, in full detail. Furthermore, I'll help you through a private question system so you can improve the quality of your tattoos, reaching the excellence your work deserves.
At 10 Masters you will find the best experience to level up your tattoo skills. No matter where you live, we give you access to best-in-class recorded videos and downloadable content. As a member you'll control what you want to watch, when you want it, using any device. At your own pace & limitless.
Check out my most recent works:
"The ultimate guide to REALISTIC TATTOOING"

Despite what you may think, all realistic images are tattooed following the same steps. Should we start by working on the darkest or the lightest areas? Should details be left for last?
There's always a right way to do it – and in my Online Seminar, you'll learn what it is. I'll teach you my methodology, which basically consists in knowing what the appropriate steps to follow are, which type of needle or machine you should use for each tattoo, or why and how you should touch up realistic tattoos. I'll also tell you about composition, photo editing before starting the tattoo process, the workspace, and more. In order to do things correctly you must know what the correct way is. Did you know that you can identify lines, shadows, and fills in an image through Photoshop? Is the machine you use the one that works best for you?
View more
View less
What's included?
40 lessons · 104 classes · 4 complete tattoos · +36 hours · 4 E-books included
1. HOW TO TATTOO REALISTIC EYES

8 lessons · Duration: +4 hours · Quality: Full-HD · Language: English
"A classic realistic tattoo that brings together all the basic elements: lines, fills, shadows, saturations & whites"
This realistic tattoo course features Full-HD videos throughout 12 classes where I'll teach you the basic (and not so basic) procedures to tattoo any individual realistic element by means of this realistic Black & Grey eye tattoo. You'll hear about machines, needles, lines, packing, shading…
Throughout these lessons, you'll learn:
View more
View less
2. HOW TO TATTOO PORTRAITS

13 classes · Duration: +6 h · Quality: Full HD · Language: English
"Level up your portrait skills with advanced techniques"
This advanced Realistic Tattoo course features Full-HD videos along 13 classes where I'll teach you all the advanced tips of Realistic tattoos that I know. Apart from the full process, this tutorial includes a lesson in which I'll also show you the touch up session, and I'll explain when and how it's better to do it.
Throughout these lessons, you'll learn:
View more
View less
3. HOW TO TATTOO A CELEBRITY PORTRAIT

8 lessons · Duration: +8 hours · Quality: Full-HD · Language: English
"It might look good. But you need it to look identical"
This realistic tattoo tutorial, included in the Online Seminar, shows the process of two complete sessions in which I will teach you about technique, methodology, and everything I know about tattooing portraits that should look just like the reference image. It features Full-HD videos throughout 15 classes where I'll explain all you need to know regarding how to tattoo portraits that should look as similar as possible to the reference image. Aside from the full tattoo process, this tutorial also includes extra lessons where I'll teach you when to take breaks, curiosities about this piece, and all the materials I used during these sessions.
Throughout these lessons, you'll learn:
View more
View less
4. HOW TO TATTOO REALISTIC HANDS

10 lessons · Duration: +6 hours · Quality: Full-HD · Language: English
"Difficult body areas requires advanced skills"
Hand tattoos are not easy. Realistic tattoos on hands are even more difficult because you have to take many things into account since realistic tattoos tend to fade on problematic skins by their nature.
As I always say, 'if you are a beginner, don't tattoo hands or complicated areas like the neck, feet or armpits'. 'But, when will I be ready to tattoo them?'
In this step-by-step, besides teaching you how to tattoo Realism on the hand in two sessions, I will show you the materials I have used, the things you should keep in mind about the skin. I will also give you ideas to make spectacular compositions in areas like this.
You will learn how to make a composition to facilitate the application of details. Besides, you will learn the different parts of the hand: the knuckles, the sides of the hand and the wrist, among others.
Throughout these lessons, you'll learn:
View more
View less
5. REALISTIC TATTOOING SEMINAR

15 lessons · Duration: +12 hours · Quality: Full-HD · Language: English
"What differences a tattoo artist from a professional tattoo artist?"
Learning the technique is great. It's always one of our first questions, and here you will find many complete lessons about it. However, in order to be a professional Realism tattooist, there are many things you have to learn beforehand.
Throughout the theoretical lessons I'll teach you what I've learnt in the past 11 years of my career. By asking the wrong questions and not taking good decisions, I've made many mistakes. That's why I'll start by talking about my experience: my work methodology, my 3 pillars thesis, tattoo techniques, needles, inks and dilutions, and so on.
My love for technology has allowed me to learn new ways to analyse reference images, edit them, and create the right stencil. I'll teach you everything I know through many instructive lessons with the aim of making you feel more comfortable when you start a new project. All these lessons were built together with the celebrity portrait Step by Step course.
Throughout this seminar, you'll learn:
View more
View less
13 classes · Duration: +3 h · Quality: Full-HD · Language: English
"How should tiger's whiskers be tattooed?"
There's always a question that's left unanswered in every course - but not here!
Besides having a private questions button through which you'll be able to ask any question you may have; I've included these extra lessons.
In the Tattoo Review lesson, I'll analyse my best tattoos to look for more technical tips.
In the Frequently Asked Questions section, I'll answer all the questions that my students from face-to-face seminars have asked. Some of them are:
View more
View less
We all like showing how we're constantly learnink. Your clients like seeing it too. That's why our 10 Masters Certificate, which you'll receive when you finish the Seminar, includes a QR code to verify that you've learnt with me. Plus, you'll be able to choose between 3 different templates - so it fits your studio's style.
Easy-to-watch Video Lessons
You can complete the course at your own pace - Lifetime available.
10 Masters is an Online Learning Platform that allows you to watch or listen to video lessons from the world's best tattoo artists.

With 10 Masters you can learn something anytime, anywhere, at your own pace. It is available on your smartphone, iPad or personal computer.

Access is easy: once you have enrolled in a course, visit your 10 Masters profile and there it will be waiting for you, ready to be completed.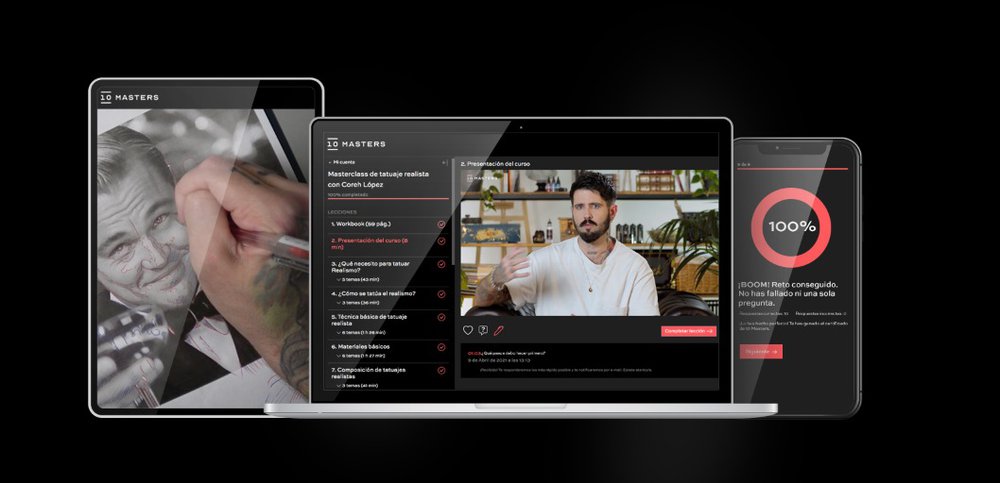 Tattoo Hud®
So that you know which dilutions, needles, machine, or voltage I'm using in real time.

Full HD videos & Super Zoom
So you can see the tattoo in detail, as if it was right in front of your eyes (or closer)

E-book/Workbook in PDF
These are supporting documents that will guide you during the main course and give you extra content lessons.

Unlimited Access
This course doesn't expire. Learn without time limits, at your own pace.

MONEY-BACK GUARANTEE
You can try 30% of the course. If it doesn't fit your needs, contact us and we'll refund your money. No questions asked.

100% English language
All our courses have voices, captions, subs & all the resources in English.
If you have any questions about the course, you can get in touch with us filling out our contact form.
All the reviews are verified. Only users that participate in the course are able to leave a review.
Ratings