Is the iPad the best tablet for designing tattoos?
Thinking about the best tattoo hardware
16 March 2023
In digital design, there is a strong correlation between software and hardware.
It is worth noting that the utilization of Apple products, including iOS programmes, has gained significant popularity among artists.
One such programme is Procreate, which numerous artists regard as the most favoured and recommended for tattoo designs.
However, it begs the question: Is this claim accurate? Are there other options besides Apple products?
Furthermore, what distinguishes iPads from other devices?
We aim to provide you with all the necessary information to make an informed decision about selecting the optimal hardware for your needs.

iPad is better than other tablets, myth or truth?
To begin, it's important to highlight some fundamental aspects of these devices.
iPads are not solely drawing tools, but rather standalone portable tablets. This implies that, apart from being used as an illustration resource, they function as miniature computers that can serve many purposes.
This allows them to operate independently without requiring other devices, such as a computer, and can be utilized anywhere.
Let's delve further into its features and conduct a more comprehensive examination of this hardware.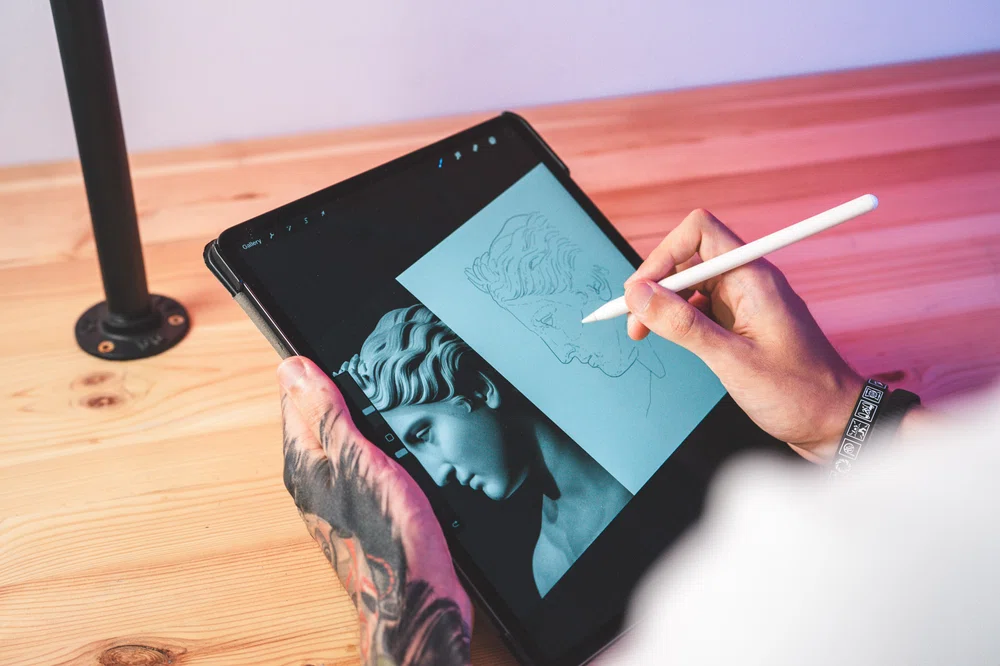 Pros
It's great to hear that the iPad is becoming a popular tool among professionals in various fields, including tattooing and illustration.
The high sensitivity and response speed of the iPad, along with the precision and fidelity of the Apple Pencil, make it an excellent choice for graphic design work.
As mentioned, the high pixel levels of the iPad can also increase the quality of graphics and improve image editing capabilities, which can be very beneficial for professionals in these fields.
It's also encouraging to hear that Procreate and other programs designed for Apple devices work well and can handle large numbers of layers and complex projects.
This tattoo artist suggests using the iPad 12 Pro since it allows for creating more layers with Procreate compared to earlier models and offers a larger storage capacity.
For those considering using an iPad for their work, it's worth noting that the storage capacity of newer models, is larger.

Cons
While these products have many advantages, not everything is pink. One drawback is their high price point. For instance, the iPad 12 Pro costs around US$1,000, and finding a decent alternative for less can be challenging.
As previously mentioned, the standout feature of these iPads is the pencil. However, not all pencils are compatible with every iPad model, and they are not included with the purchase of the device.
Two pencil models are available, each with pros and cons:
The first-generation pen is more compatible with different iPad models.
The second-generation pen is more versatile in terms of weight and tip design. The first-generation pen costs approximately US$100, while the second-generation pen is around US$130.
Procreate has provided a list of compatible pencils for each iPad model.
For the first-generation models, these include the iPad (6th, 7th, 8th, and 9th generation), iPad Air (3rd generation), iPad Mini (5th generation), iPad Pro 12.9 (1st and 2nd generation), iPad Pro 10.5, and iPad Pro 9.7.
For the second generation, compatible devices include the iPad Mini (6th generation), iPad Pro 12.9 (3rd, 4th, and 5th generation), and iPad Air (4th generation).
It's essential to be vigilant about which pencil and iPad model you have because not all are compatible with this programme.

Other highly recommended tablets and pens
The world of tablets, particularly tablets for graphic design, is extensive and rapidly evolving, making choosing the correct device challenging.
However, as a tattoo artist, it's essential to consider your unique needs and usage requirements.
In this regard, we've compiled a list of tablets that offer excellent performance, surpassing even those provided by Apple. However, it's worth noting that these tablets won't be compatible with Procreate, as mentioned previously.
But don't worry, you can work the same with other software without problems.
If you want to know more about applications, read our article Best tattoo design applications and discover everything you need to know.
Now it's time to analyse them.

Samsung TAB S7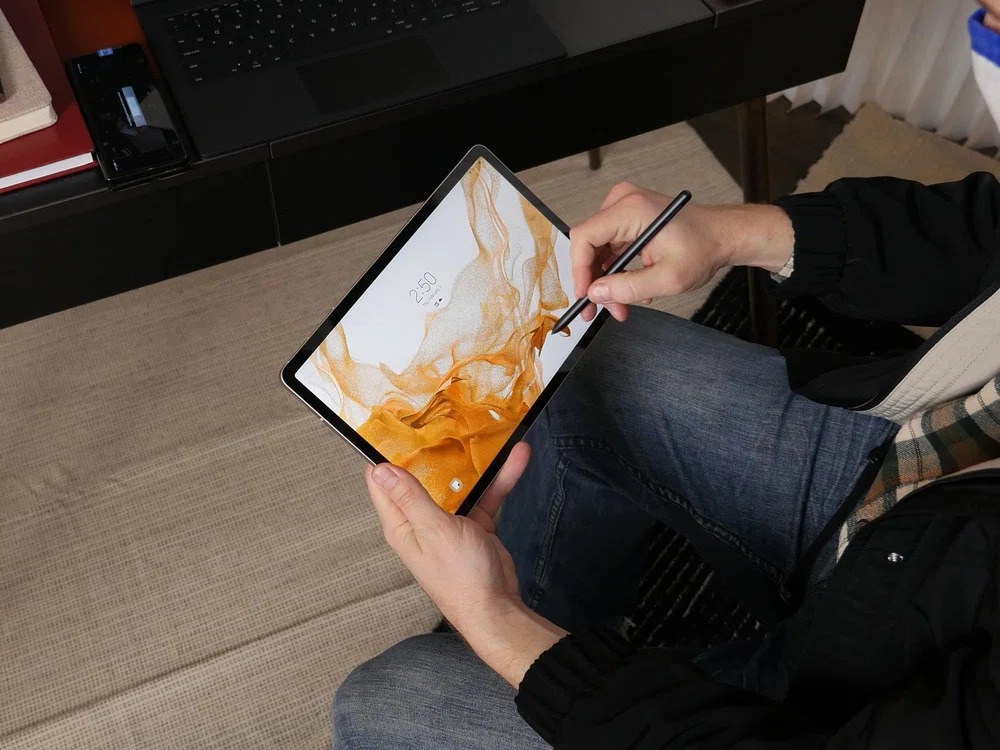 Within the category of graphic tablets with a screen, this is perhaps, after Wacom, the best value on the market. It is so good in its performance that it competes with iPad equalling it, some people prefer it.
It comes with a pencil included, which is really to stand out and appreciate. It has a resolution of 1600x2560 pixels, giving an aspect resolution of 16:10. Furthermore, it runs Android 10 and is very agile.
In addition, its battery is very durable, so you can spend hours and even days designing your tattoos without having to charge it all the time.
The colour reproduction has a slight flaw, so for the most demanding artists. But in general, the contrasts are excellent.
Regarding operation, the experience is much more like a laptop since you can browse different sites and open programs simultaneously without problems, unlike iPad, which has some restrictions.
Price: US$700

Surface Pro 8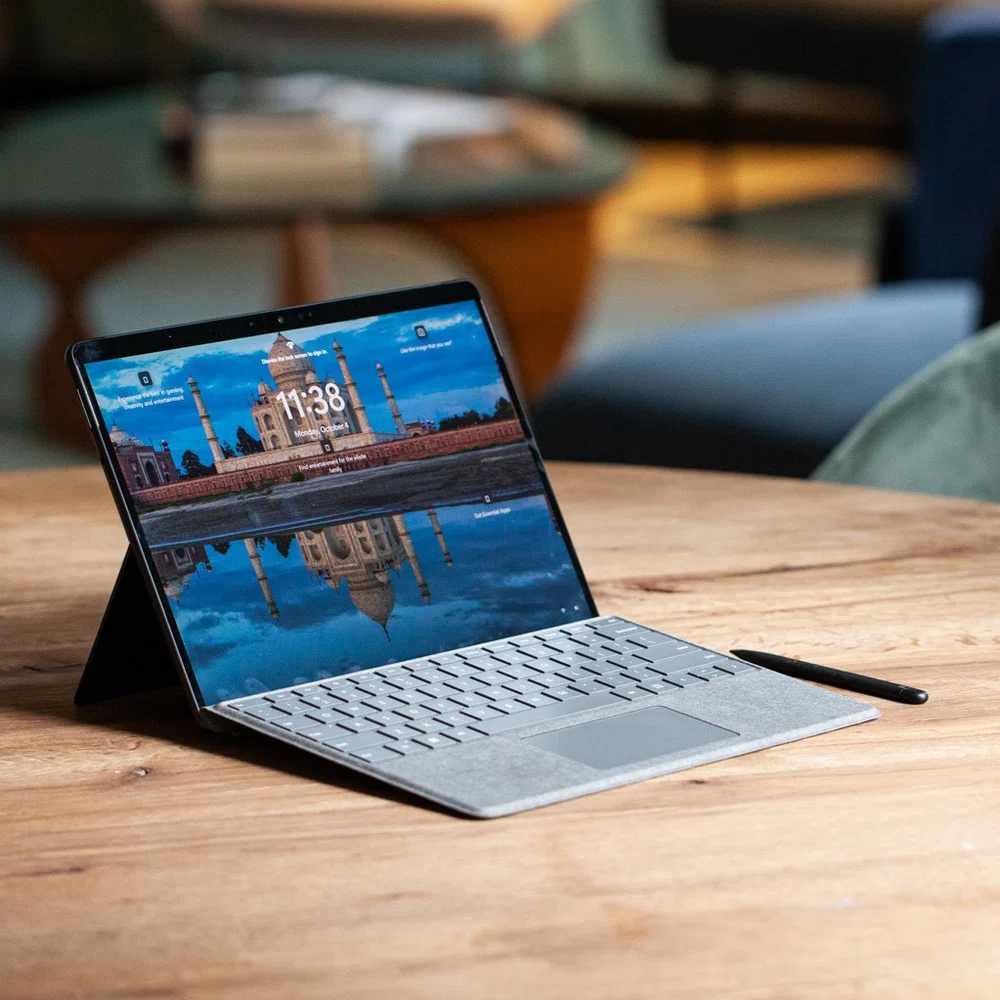 Microsoft's tablet, equipped with Windows 11 operating system, is one of the most sought-after devices on the market. It can be used as a computer, which makes it highly practical and versatile for artists.
Featuring an 11th-generation Intel i7, 16 GB of RAM, and 256 GB of internal storage, this tablet performs like a high-speed computer. The Intel i5 version, with 8 GB of RAM and 256 GB of storage, is also a suitable option.
With a 13-inch screen boasting a resolution of 2880x1920 and a 3:2 aspect ratio, it's superior to the Tab S7. The built-in stylus, with 4,096 pressure levels, offers a lag-free experience and is highly responsive, making it one of the best on the market.
Working with multiple tattoo designs simultaneously is a breeze, and the tablet offers the freedom to work from any location.
This tablet ranges between US$800 and US$1,100, depending on the model you choose. It's truly a luxury device that can boost your productivity and enhance your creative process.

XPPen Artist 13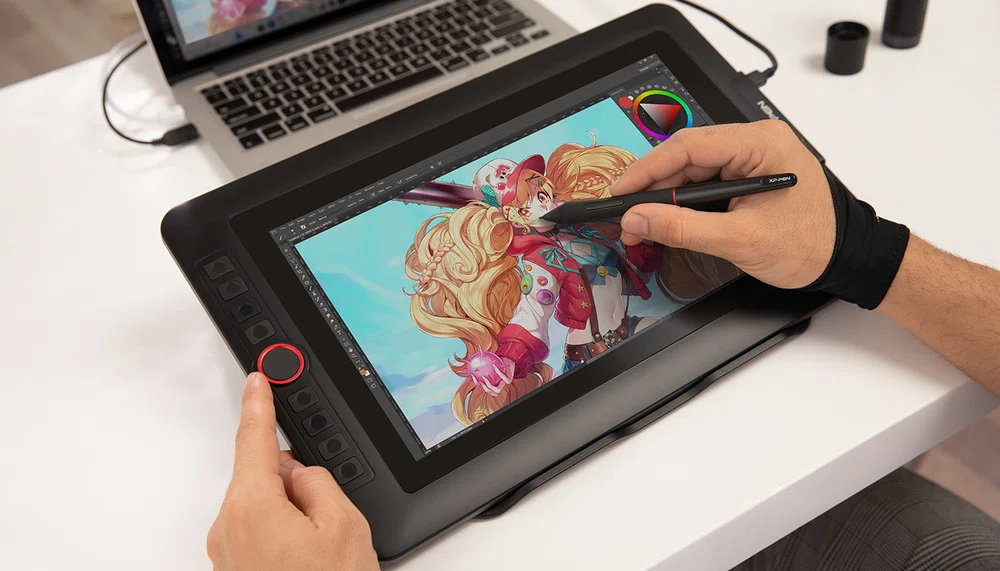 While this tablet may not be a portable device, it still stands out as an excellent option for designers. The 13-inch screen graphic tablet comes with a stylus and some accessories, making it a practical and affordable alternative for your work.
The tablet has a resolution of 170 pixels per inch, offering accurate colours and contrasts ideal for designing tattoos with various shades.
Its stylus, which has 8,192 pressure levels, does not require recharging, allowing you to have maximum precision and create shading in realistic ways.
Another advantage is that the tablet can be used as a screenless tablet and connected to a computer. This means you can view your designs on a real scale with a larger monitor.
The XPPen offers many models of tablets in various sizes, but we believe that this 13-inch tablet is one of the best options for you. Its compact size makes it easy to carry and use wherever you go.
Price: US$600.


What do you think about this article? Did you know all this information? What tablet would you buy?