Synthetic skins for tattooing
Practice tattooing without making mistakes on your clients
02 August 2022
When you start tattooing you need to practice, a lot!
Of course, the first tattoos will not be the best ones. That's why you should draw, make mistakes and then get it right. The most important thing is have some action with the machines, you need become friends with the needles and experiment with the inks. There you go!
In order not to cause disasters on the skin of your clients, we'll give the best options to design and tattoo what you want, but above all, to make mistakes without fear.
What are synthetic skins?
Fisrt thing first, what are these materials about? As you well know, the most traditional and well-known way to start tattooing is practice on fruits, such as oranges or melons, since they behave in a similar way to human skin and the inks can be easily injected.
But did you know that there are other skins designed specifically for this purpose? Synthetic skins have become very popular: materials in neutral tones, different sizes and even shapes.
You can find them both in sheet format and even in the form of human arms. This is excellent, since you could practice directly on a surface with a more realistic and faithful shape to the human body.
But a very important fact is that these skins are not designed so that you feel that you are tattooing on real human skin.
It is very common to believe that, because it is a material specifically designed for this use, the application of the ink and the puncture will feel the same as if it were worked on human skin.
These skins were designed for you to practice stretching the skin, to learn how to make a stencil and to try different techniques and styles of your interest.
Practising on something other than a person's body will provide you with good skills when using machines, needles and inks, but the experience with human skin is radically different and you must take this into account.
What kind of skins to tattoo exist?
Smooth synthetic skins and templates with pre-printed designs.
As we mentioned before, synthetic fur can come in different sizes, shapes, and thicknesses.
But in addition, you can choose to buy plain or with pre-printed design templates. There are also some that can be attached to the body to practice tattooing on top and simulate the pricking of real skin.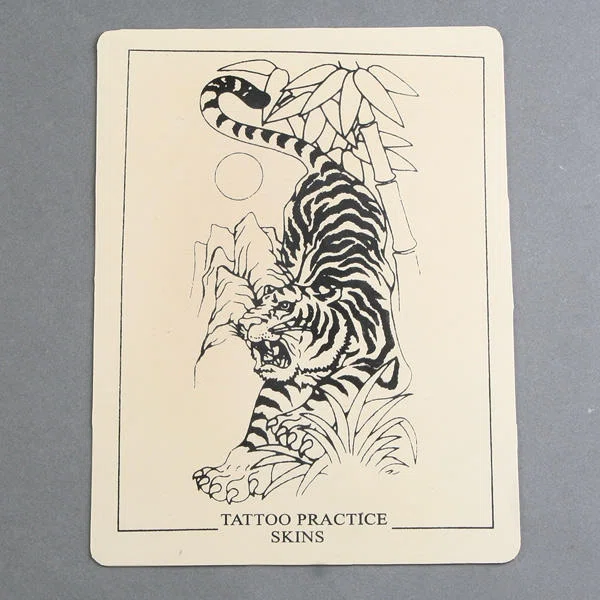 You can get it at any butcher shop. They are not usually sold, so they can give it to you at a very low price or even for free.
As it is an animal material, care before and during the process is essential. You must wash it well, it is recommended to leave it in a bucket with cold water and a bit of chlorine or bleach for 2 hours.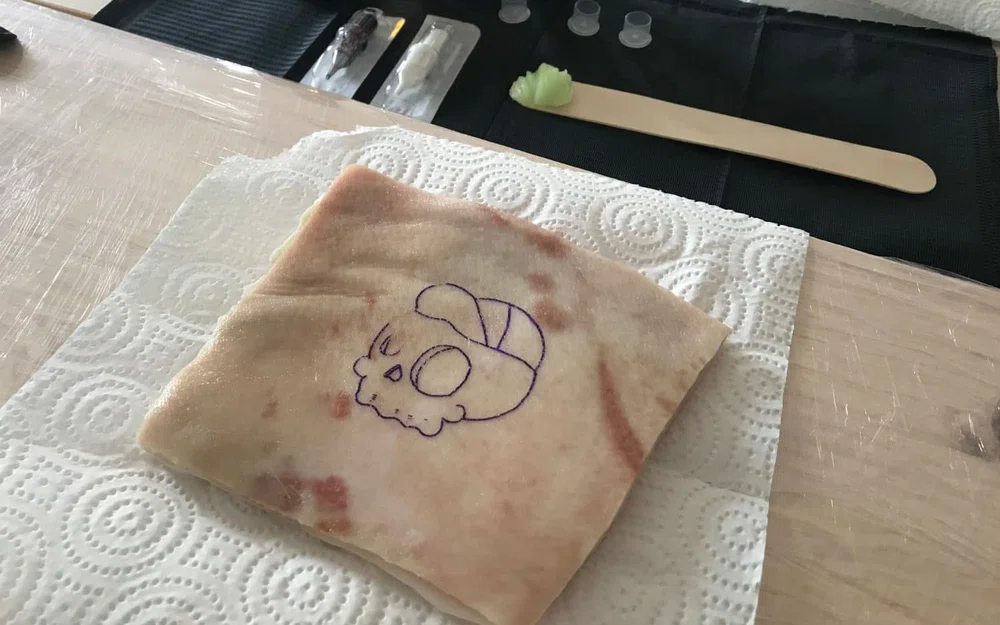 You can then put it in the fridge for a while, so that it is better preserved when you use it, since after a few hours it begins to stink and working may be difficult under those circumstances.
If you want to keep them, you can keep them in the freezer for up to 4 or 6 weeks, longer than that is not recommended.
In order to use them, many use a wooden board covered with plastic film and fix the pig skin on it with rivets. This will make you work more comfortably.
One of the most economical ways, without a doubt, is practicing on fruit such as melons, banana skins or oranges.
Practising on these surfaces is very good for your learning, as it gives you tools to better master curvatures and irregularities.
Many artists recommend using oranges, because they behave in a similar way to human skin, insofar as if it is punctured too deep, juice can behave like blood and those complications are what will make you improve and get familiar with the natural reactions of the skin.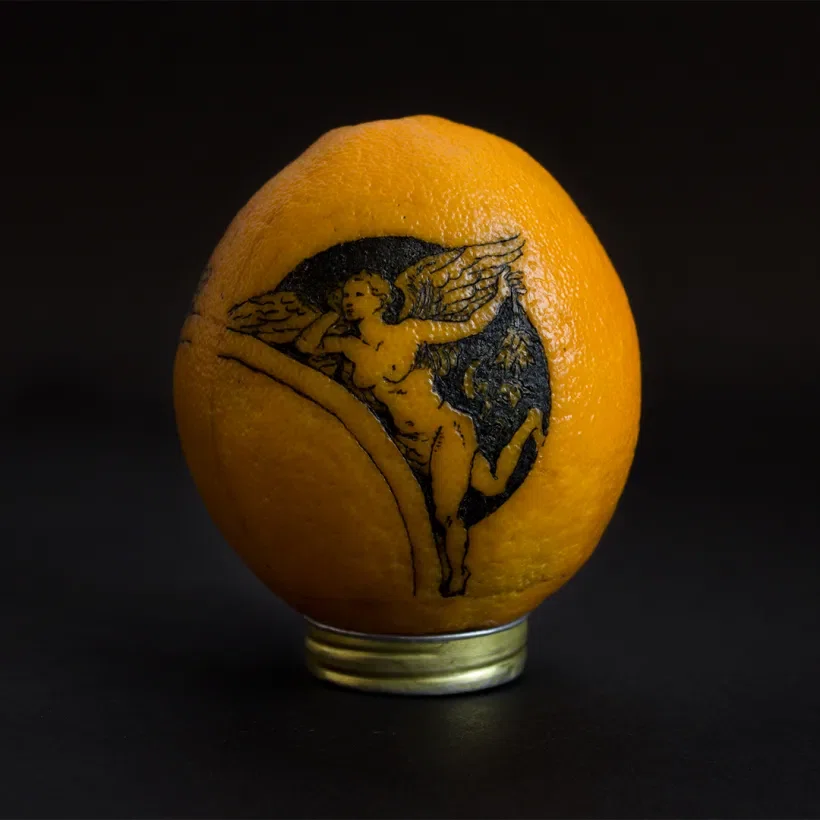 You will quickly notice that if you press too much, the fruit "flattens" and breaks, that would be your limit, and with this parameter you can already get an idea of ​​what would happen on human skin. Better to break a fruit than to hurt someone!
What is it like to tattoo on synthetic skins?
Synthetic skin is harder than real skin, so it can damage the needles more. Because of this, you will find that you may have to apply a little more pressure and it will take a little more time to apply the inks. There are skins of different thicknesses and they can range between 2 to 8 millimeters.
For the application of the stencil, it is advisable to let it dry for a while until you can use it, since if you remove it immediately, the ink can get blurry. Once the paper is removed, there are tattoo artists who prefer to wait up to 30 minutes and remove all the excess ink with a remover. In this way, you will see that the drawing will be transferred but in a very smooth way. Don't be scared, this is brilliant, because if you let the ink dry completely, then it will be very difficult, if not impossible, to remove it and it will stay in the design later.
More than two or three layers of colour need to be applied on synthetic skin to make it look good, whereas on real skin only 2 layers are necessary.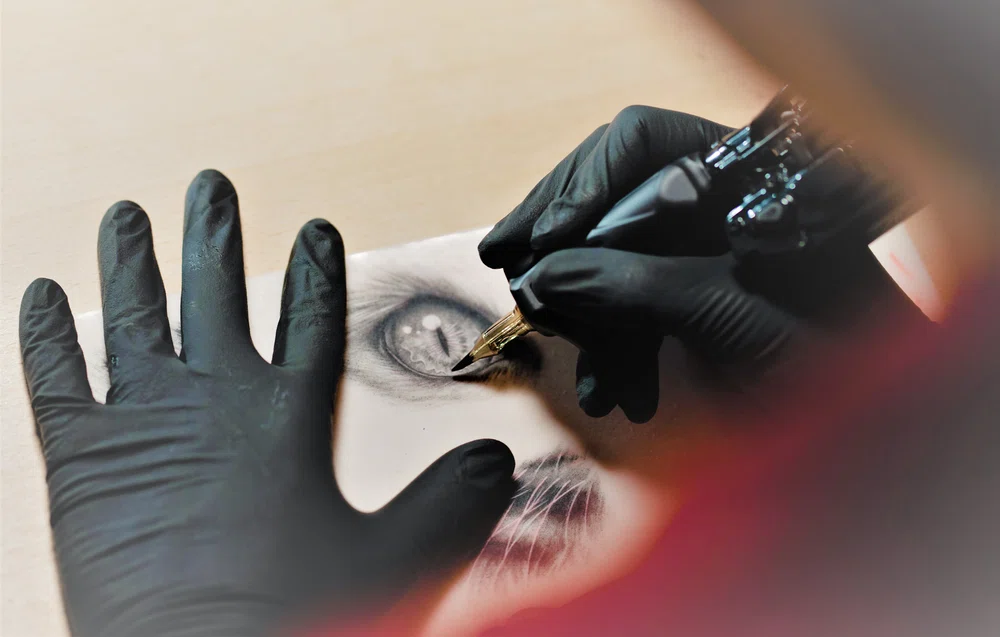 Is tattooing on synthetic skin the same as on real skin?
With everything we discussed before, the answer is clearly NO. It is not the same to tattoo on synthetic skin than on a real human body, nothing resembles it in the exact same way.
But we can have some points in common with the other materials that will give us a very precise guide on how to tattoo.
The most important thing here is that you keep in mind that using different surfaces and textures will help you have an excellent command of the machines, you will be able to compare different voltages, try very different shadings, techniques and styles without harming anyone.
Our advice is practice, practice and practice!
What do you have to keep in mind when using synthetic skin?
There are many different types of skins on the market, of greater and lesser value, of greater and lesser size or thickness, of different colours and shapes, etc. But how to choose the best one?
We recommend that you do research as the best option if you want to really learn. In addition, by trying different materials, you will then be able to determine with greater criteria which one best suits your needs.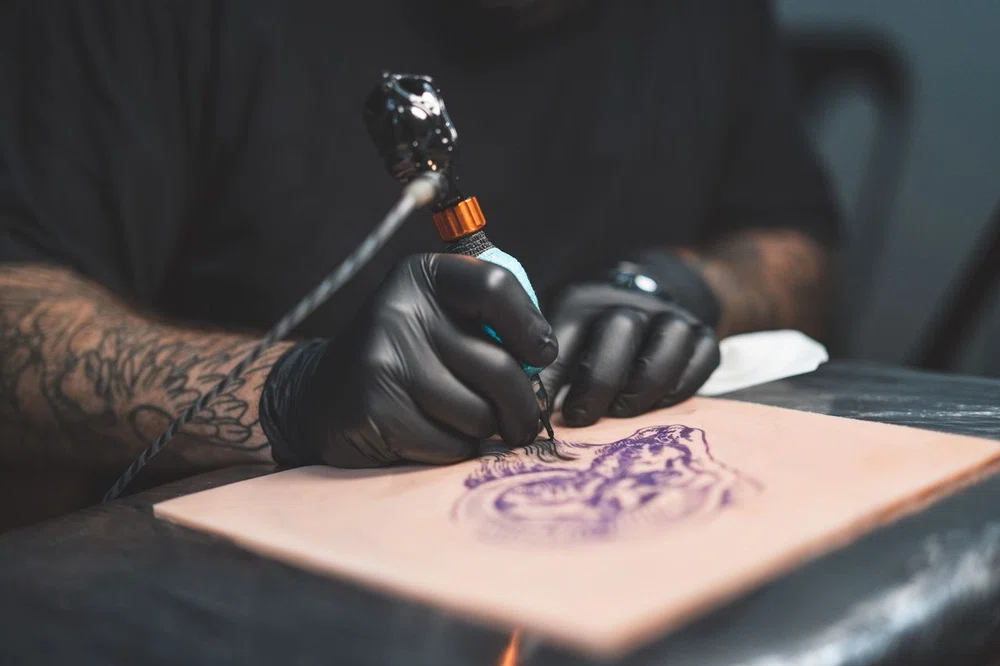 Some skins are harder than others or even more porous, and this objectively greatly affects the use of inks and needles, but do not let yourself be 100% guided by this. To begin with, it is best that you get one, any, and start tattooing.
When tattooing on them, keep in mind that:
It is not recommended to use the same cleaning products as on human skin. Keeping synthetic skins clean is much more difficult and with the traditional products that we are used to using, it is not enough, since the remains of ink are not completely erased.
You can use Vaseline This point is very important, use Vaseline before puncturing and then to remove the excess of ink.
Do not tattoo on a flat surface, try to do it curved surfaces. As we have already mentioned, it is always better not to use synthetic skin as a sheet of paper, but rather to take advantage of it properly, in this way you will get used to the weight of the machine more easily and to draw lines skillfully.
You don't need to constantly wipe it. The applied ink is very little compared to human skin, so it is better for you to respect this and clean less frequently to prevent transfers from rubbing it off and give the ink time to dry and penetrate the skin.
Transfer the stencil and wait a few minutes. It is recommended that once you have applied the stencil you wait a few minutes, you may even use a hair dryer so that the ink dries, but beware, don't dry it completely since it might not be erased.
After this, you can clean it with Vaseline and tattoo it again. Test it without this recommendation and then test it again following these steps. You will see the difference!


And the big question is, can a synthetic skin be reused?
The answer is no, it cannot be reused. Once a tattoo is made on, it is not possible to remove or erase the ink, so when buying the synthetic skin you want, whatever it is, you have to consider buying more than one piece. You can even think about using several spaces on the same sheet so as not to waste your canvas.
An extra, a book of skins?
Exactly what you're thinking. The company TBWA \ Lew Lara in collaboration with the magazine Tattoo Artist Magazine are designing a book called The Skin Book, as a personal notebook specially designed to practice there.
Instead of sheets of paper, when you open the book you will find sheets of synthetic skin!
What do you think about it? Would you use it?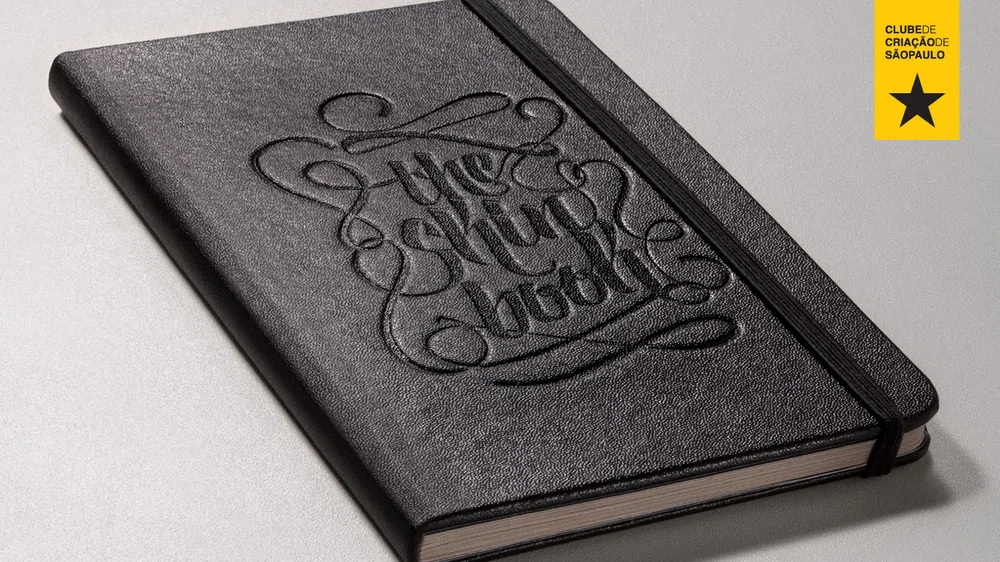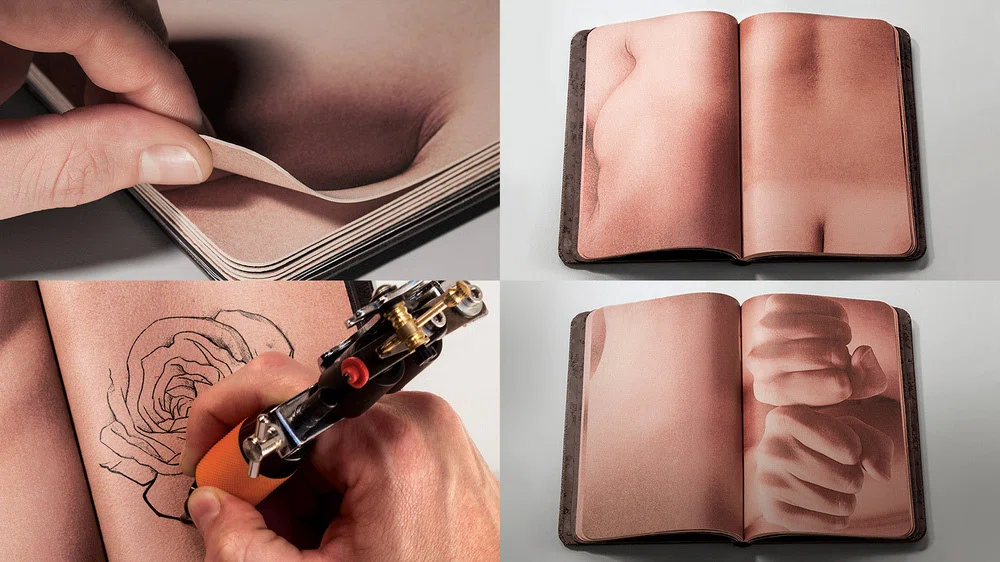 But then, are these materials really useful?
Yes, they work. You just have to keep in mind that the way of tattooing on synthetic skin is never going to be 100% the same as the experience of tattooing on a client's skin.
As we have told you before, practice a lot!
Try different surfaces and never discard these materials, because in the future, when you master the art of tattooing, and you become a professional, synthetic skins will also help you to try new designs and experiment with other techniques.
Remember all the recommendations, pros and cons that we've talked about to choose the best synthetic skin type option. Try it all and then, it's up to you!
Better to go wrong with a synthetic skin than to mess up your clients' skin!
Drop us a comment, have you tried any of these materials? What was your experience?