MasterCourse: Realistic Tattooing in Colour
Learn how to Make it Real from the experience of a tattoo Master
with Coreh López
WATCH TRAILER
149€ 429€
COP$

714,914

COP$

1,928,921
£128 £345
Ends today: Launch Promo Price!
You will access it immediately after enrollment (App, iPad & desktop)
47 lessons (+40 hours)
Resources in PDF
Unlimited access
Audio: English, Spanish
Subtitles: English, Español, Français, Italiano, Deutsch, Português, Polski, Čeština
All levels
Access on mobile & desktop
Certificate of participation
"Only 3 out of 100 realism tattooists… do Colour Realism"
Do you know why?

It's not because color is more difficult than black and white (actually, the technique is not that hard).
Nor is it due to low demand, since every time, more people are getting color tattoos. The truth is that there are few tattooists who do this style because those who are at the top, don't reveal what they know. They are not willing to share it with others.
How many courses have you seen about color? And as for the existing ones... How much do they cost?


Colour Realism is way more exclusive

There are very few tattoo artists for such a high demand, that's why realistic colour tattoos are by far the most valued on the market.
They perform a style that is very sought-after, which takes the spotlight in social media. No one can stand in their way.
View more
View less
Take a look at my last tattoos:
"The ultimate program to REALISTIC TATTOOING IN COLOUR"

Can you spare one hour a day?
If you already know the basics or have experience, you will find tips and tools to take a level up in this course. You can watch only what you need now: what you don't is saved forever, just in case.
But if you're beginning, and you're not even sure if different inks can be mixed yet, then... you could use an in-depth plan.
It has been proven that with one hour of study or practice a day, a person can achieve an above-average level. Just by getting in the habit.
This course, followed from start to finish, consists of a program that allows you to watch it gradually and at your own pace. You can also dedicate weeks to follow the process of five realistic tattooing processes, starting from the beginner-level ones, and finishing with the others. If something becomes difficult for you... you can watch it again later, as many times as you want. It's Lifetime available. The ones who get the most out of this course's content are beginners.
If you have one hour a day, then it is up to you.

The best price & the best Platform

I can't show you everything I've learned if I don't document the process of several tattoos (different keys on every tattoo). That's why I've needed help, as the course not only tells you all the theory, tricks, and steps you should take, but also allows you to switch the view with a single gesture; zoom in or out whenever you want and even see how far the needle goes in; I have also explained each step I take, with interactive on-screen texts, video interventions or downloadable resources. No-one is offering nothing like this.
View more
View less
What's included?
+47 Episodes · 5 Step-by-step Tattoos · +40 hours · WorkBook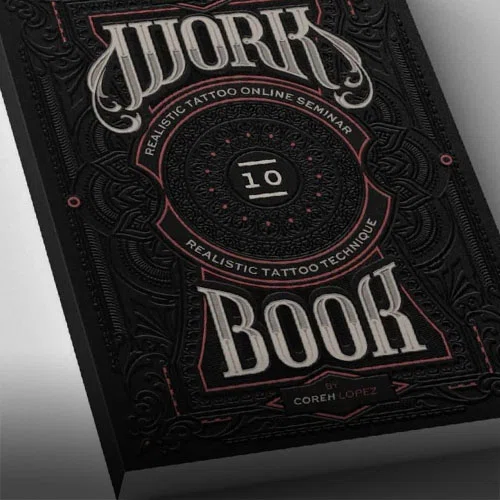 WorkBook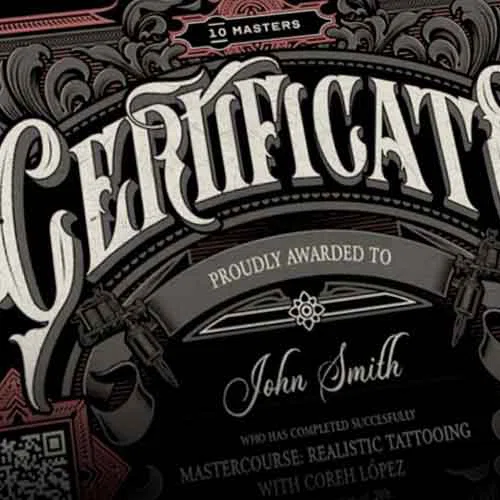 Certificate included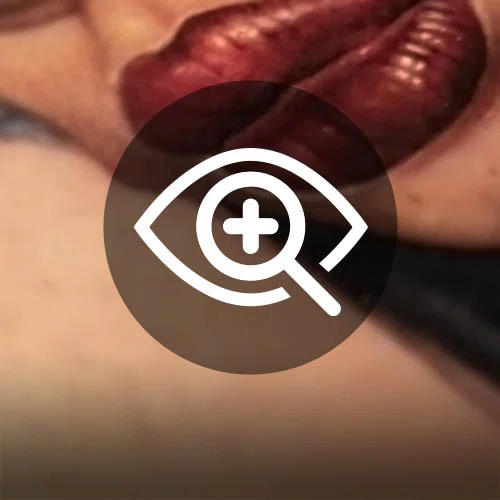 Switch the View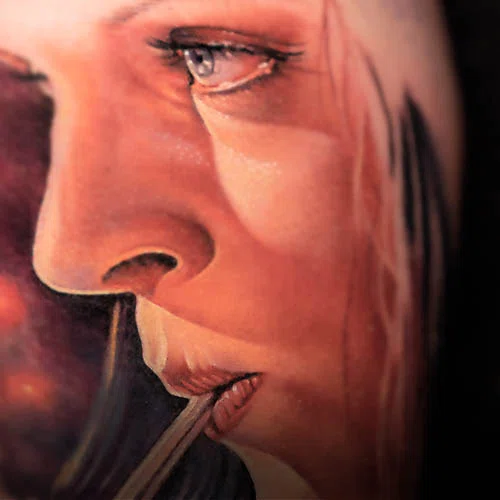 Learn from the best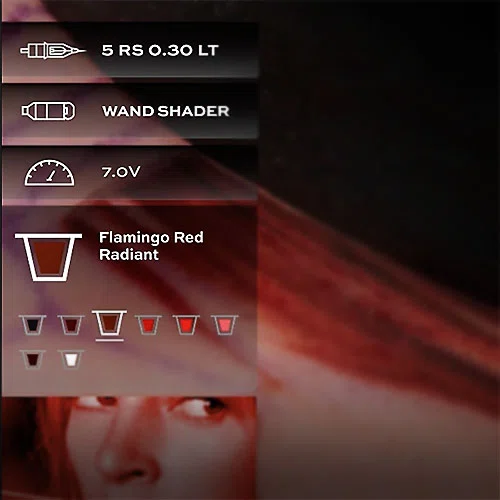 Tattoo Hud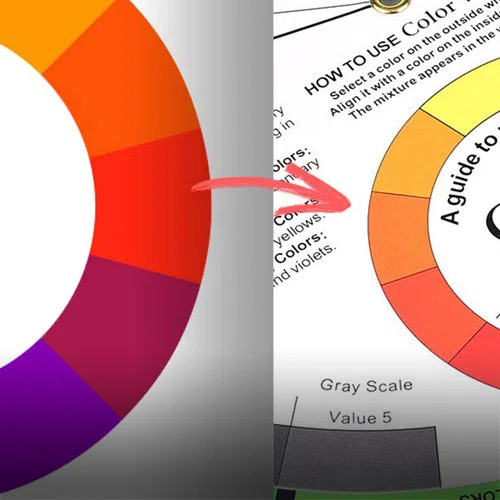 Methodology & Technique
1. FOUNDATIONS: METHODOLOGY & TECHNIQUE
5 Chapters · +2 hours · Theory · Materials · Editing
"Learn the rules like a Professional, so you can break them like an Artist"
That is what Picasso said. It's no use knowing how to apply colour if you choose the wrong one. It's no use knowing the steps if the wrong order spoils the final result.
We, artists, hate rules. But at the same time, we are aware of their value. Preliminary design, machines, needles, inks... it all adds up. I will show you my vision of colour theory and how to bring it to your workstation (which, in the end, is what matters).
That's why this theoretical block is direct and straightforward. No bullshit.
In this block, you will learn the following:
View more
View less
¡NEW!
2. MINIMALISTIC REALISM TATTOOING
5 Chapters · +4 hours · Glazing technique
"I want it in colour... but not too big".
A classic. It's one thing to tattoo in a minimalist way and quite another to do MicroRealism. So... What is the minimum size allowed for this?
The reality is that it depends on many factors: reference image, the skin of your client, details, colours...
One of the key things I've learned throughout my career is that, in addition to black lines, another application that works great when the client doesn't want a huge tattoo is glazing, as long as you apply it in a specific way.
I show you how I finish this small piece by simply using lines, textures and glazes with a minimal colour palette.
Throughout this module, you will learn the following:
View more
View less
¡Basic Level!
3. MONOCHROMATIC REALISM COLOR TATTOO
6 Chapters · +6 hours · Monochromatic technique (reds) · Beginners level
"Be smart: Red & Black"
One of the most successful ways to get in touch with colour Realism is doing a tattoo with a single red colour range and a slightly reduced size.
By doing this, you learn the technique first; second, you use the most accessible range of inks to apply; and finally, it allows you to correct mistakes quickly and focus on methodology and technique over theory. It's just perfect; that's how I started years ago.
In this tattoo, I finish in a single session a frame from the movie "Kill Bill", placed on the inside of the biceps, to teach you in-depth the proper steps to tattoo Realism and avoid the feared colour contamination.
Throughout a step-by-step & un-cut process and with explanations during each step, you'll learn:
View more
View less
4. REALISTIC COLOR TATTOO: PULP FICTION
8 Chapters · +7 h · Warm and Cold · Double Session
"Isn't it more exciting when you don't have permission?"
Mia Wallace said this sentence in this scene from the movie "Pulp Fiction", and I couldn't agree more.
Sometimes strict rules prevent us from having fun and achieving different, creative results. I practice quite the opposite in this tattoo: I make a tattoo by modifying colours and improvising throughout the session as if I were painting a picture. I comply with the standards of colour theory... But without overdoing it and giving preference to the stain over the detail.
Besides, the tattoo is quite extensive. Therefore we will do it in two sessions and analyse the healing process between them when everything is ready.
Throughout these lessons, I teach you:
View more
View less
5. REALISTIC COLOR TATTOO: CARNAGE
8 chapters · +7 hours · Complementary colors · Double session
"Seems like it's going to come off the arm".
Tough skin, slightly tanned, and an ultra-detailed tattoo with bright complementary colours. Well... This piece is, without a doubt, the most challenging tattoo of this course. So much that I almost went crazy doing it.
Thanks to this difficulty, I can show you many technical mistakes and handy tips during the process and explain the decisions I made in the first and the following session.
Some areas will need a touch-up; others... Have turned out great.
Throughout these lessons, you can learn the following:
View more
View less
6. REALISTIC COLOR TATTOO: FREESTYLE
12 chapters · +8 hours · Neon effect · Double session
"Tattooing one style is good. Tattooing your own style is excellent".
This is what many of us aspire to. Having your own style allows you to be unique and different and gives your clients an exclusive seal of identity.
But in order to tattoo Realism in colour with your personal style there are many things to take into account. I explain how I have achieved it by mixing several techniques: solid fills, glazes, monochromatic areas, neon effect and using two complementary colours: red and blue.
Throughout these lessons, you learn:
View more
View less
7. FINAL LESSON & CERTIFICATE
Evaluation · Certificate (5 Designs) · Student's FAQ
"We all like to show the world that we are constantly learning"
Your clients will love to see it too. That's why our 10 Masters Certificate includes a QR code to verify that you have completed this course. Plus, you can choose from 5 different designs to suit your studio's style.
But first, you'll have to test yourself with our quiz, which you can retake as many times as you need.
To round off this course, I will answer the students' frequently asked questions and update this episode whenever you have doubts or there is a new topic to talk about and discuss.
In this final block, you will be able to solve the following questions:
View more
View less
Easy-to-watch Video Lessons
You can complete the course at your own pace - Lifetime available.
10 Masters is an Online Learning Platform that allows you to watch or listen to video lessons from the world's best tattoo artists.

With 10 Masters you can learn something anytime, anywhere, at your own pace. It is available on your smartphone, iPad or personal computer.

Access is easy: once you have enrolled in a course, visit your 10 Masters profile and there it will be waiting for you, ready to be completed.

Tattoo Hud®
So that you know which dilutions, needles, machine, or voltage I'm using in real time.

Full HD videos & Super Zoom
So you can see the tattoo in detail, as if it was right in front of your eyes (or closer)

E-book/Workbook in PDF
These are supporting documents that will guide you during the main course and give you extra content lessons.

Unlimited Access
This course doesn't expire. Learn without time limits, at your own pace.

MONEY-BACK GUARANTEE
You can try 30% of the course. If it doesn't fit your needs, contact us and we'll refund your money. No questions asked.

100% English Audio
Captions, subs & all the resources are available in English, Spanish, French, Portuguese & more.
If you have any questions about the course, you can get in touch with us filling out our contact form.
Frequently Asked Questions
How do I access the course? When does it start?
Is there any guarantee? How i know this is legit?
Do I have any support? What if I have questions?
How long does the training last? Can I watch it more than once?
I would like to do it, but I can't afford it
Is the platform difficult to use?
Is this training for me? Will I improve my knowledge as a tattoo artist?
I don't have time to train, how can I learn to tattoo?