Henry Anglas: from marginality to fame
Learn about the case of a Realism artist.
11 October 2022
The path of every tattoo artist can be unique. Not everyone does it the same way, as not everybody has the same goals.
That is why, on this occasion, we are going to share the case of Henry Anglas, a Realism artist who began tattooing for the most marginalized people, and today he is recognized around the world.
We'd like you to know about his experience and learn from him as an artist, as well as from many others. Do you want to know more? Keep reading!
Who is Henry Angles?
He is a Peruvian tattoo artist who currently travels the world making Realistic tattoos.
Born in 1982 in Junín, a city located at 4100 meters in Peru, Henry was interested in drawing and art from a very young age. At the age of 18, he travelled to Argentina on holiday, but he adapted so well to Buenos Aires that he decided to stay.
Back home, he didn't have many opportunities, so he decided to search for new horizons. The excitement of discovering something new at his age kept him energized when he arrived in Argentina.
He started his studies as a graphic designer, but while he was studying, his older brother, Franco Anglas, took him to a tattoo convention in the old Buenos Aires Design, and he was completely fascinated. At 23 years old, he decided to start in this profession and be devoted to Realism.
With this inspiration and his drawing skills, he decided to transfer that knowledge to the art of tattooing.
Tattooing in poor neighbourhoods
His first steps in this industry were taken in an unusual or rarely seen way. He dedicated his time to giving away tattoos to people who could not afford them, and he started working in the poorest neighbourhoods of the city of Buenos Aires.
Back then, Henry was not fully dedicated to tattooing, and he had another 12-hour job shift in a car wash. So, she had very little time to spend practising with the needles.
He used to go to these places whenever he could, at night, and he used to offer his work for free. He was fixing up homemade tattoos for people who wanted to improve them. And he took advantage of those moments to put the shading technique into practice in his designs.
According to the artist,
"It was what I needed, since I had to put into practice the basic knowledge I had about tattooing. To get closer I showed them my pencil drawings and the portraits that I had done so far, then I told them that I was learning to tattoo and that I wanted to make portraits. In addition, I put all the necessary elements, such as inks, needles, etc. At that time I practised a lot of Realism and shadows, it was what most caught my attention".
He started doing this to practice on real bodies, and not on synthetic or pig skins. Willing to dedicate himself to Realism, he needed a lot of practice, since it is a very demanding style, if not the most demanding of all.
In addition, in a city full of artists, he felt the need to push himself even more to stand out. According to Henry,
"Achieving the feeling a photograph gives off takes a lot of practice. In illustration, there is not something more difficult or easier, but more or less technical.
The difficult thing is to be inspired, fresh, with that passion that we are going to dedicate to this work, and for that, I have several things that I do: I go to museums, I buy books, I paint, I get together with artists and exchange opinions, I go to conventions to compete. That nourishes me a lot.
You see people and learn from those who won. The personal demand, the passion that you dedicate to it have a lot to do with it. I get feedback from my colleagues and artists. It is a healthy and demanding competition."
Reaching success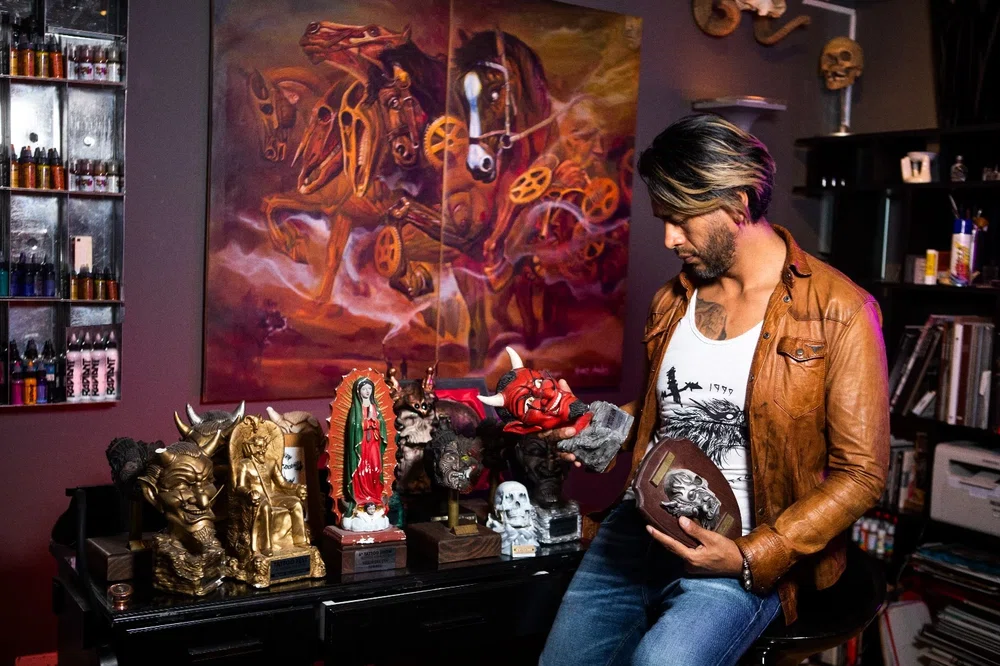 We must clarify that success is always very relative and personal. What may seem like an accomplished goal to many, may not be to others, and that's fine.
Henry set out to expand his skills as a Realism tattoo artist, and he achieved it at the cost of much effort and dedication.
Self-taught and practising a lot from a very young age was one of the most important factors to become one of the most recognized Realism tattoo artists in Latin America. Henry mixes Realism with Surrealism in his designs, and the results are outstanding.
Going to conventions and attending seminars led him to be in close contact with his colleagues and thus be able to delve into this practice until he became the professional he is today.
So much so, that he has clients who travel from all over the world just to get tattooed by him.
In addition, he had the opportunity to travel throughout Latin America and Europe working as a tattoo artist, exhibiting his work and participating in contests that led him to win prizes, and boost his popularity.
Learning and teaching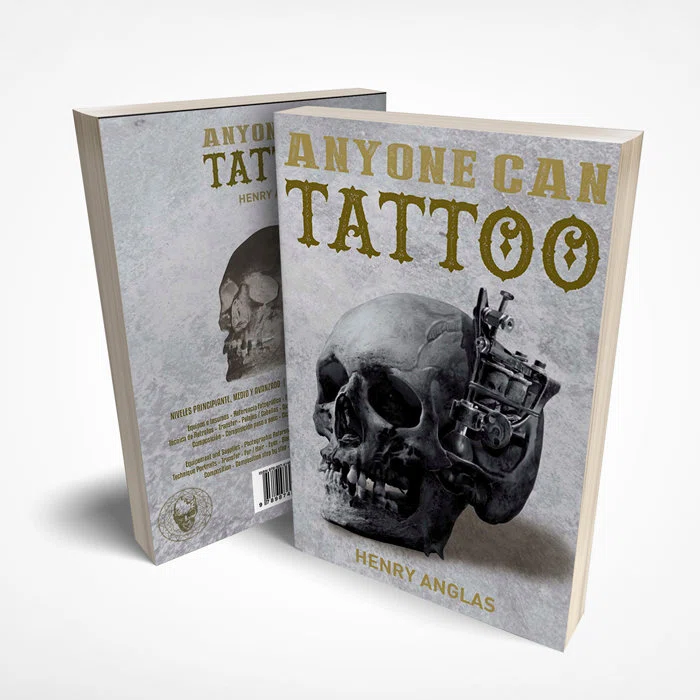 It is often said that the most important thing about success is not reaching the goal, but travelling the path that leads to it. The path of the tattoo artist is constant learning and practice, and without them, it would be impossible to perfect oneself.
This is why Henry says that, initially, it would have been very beneficial for him to have a guide available to help him solve problems. This made him release a book called Anyone can tattoo, where his goal is precisely to capture all his knowledge and be able to help other artists.
Many professionals believe that sharing their experiences and techniques takes away their advantage when it comes to competing and standing out in the market. However, other artists don't believe in this and think that knowledge has to be socialized and spread.
"I came up with the idea of ​​making the book so that future tattoo artists don't make the mistakes I made so that it takes them less time to achieve the objective of a good job.
It's like throwing a bottle at sea and someone who needs it grabs it. I try to pass on my experience to all the students, and the enthusiasm that spreads is wonderful".
Conclusion: for every effort, there is a great reward
Although sometimes talent is not enough to stand out, being a good professional and performing tattoos with incredible finishes will definitely make many people be willing to get tattooed by you.
As long as you have perseverance, every effort will be worth it.
You may have the most complicated path in the beginning, and you won't see immediate results. Nonetheless, when you get overwhelmed, think of cases like Henry's, who after a lot of effort and dedication was able to get to the place where he is today.
Each path is personal, that is why we encourage you to make the most of your possibilities as an artist and do not give up if this is something that you are really passionate about.
Success is not only measured by achieving fame, but by exceeding your own goals.
Go ahead and start this path as a professional, everything arrives eventually.
What do you think? Do you think the same, or do you think there are other ways to succeed in tattooing? Drop us a comment!