Sailor Jerry, the sailors' tattoo artist
Who is he and why is he so important to tattooing
17 November 2022
If you are attracted to the Traditional style of tattoos, you cannot ignore this artist. Undoubtedly, he is one of the greatest exponents of this style and one of the best-known.
Norman Keith Collins, better known as Sailor Jerry, is considered one of the fathers of the Old School due to his influence and the many tattoos he did in his career. Do you want to meet him?
Who is Sailor Jerry?
Born in 1911 in Reno, Nevada, USA, Norman Keith Collins had a somewhat hectic life since childhood.
As a teenager, he ran away from home, fleeing California searching for a better future, illegally riding freight trains and hitch-hiking, as was the regular way at the time.
Thus, he met a man named "Big Mike" from Palmer, who would change his life, since he was the first to expose him to the world of tattooing when he was only a teenager.
At the end of 1920, he meets Thomas Tatts, a renowned Chicago tattoo artist, and through him, he learns to operate a real tattoo machine.
Jerry did not find it so easy to get to this place, since the artists were very secretive. After much effort, he was able to be close to this tattoo master, who at that time was already recognized worldwide.
At the age of 19, he decided to enlist in the United States Navy, and it was there that he approached the world of art and tattoos to transform them into symbols of identity.
Finally, and after travelling quite a lot, thanks to the hard life in the navy. In 1930, he decided to settle in Honolulu, Hawaii, where he opened his first tattoo studio.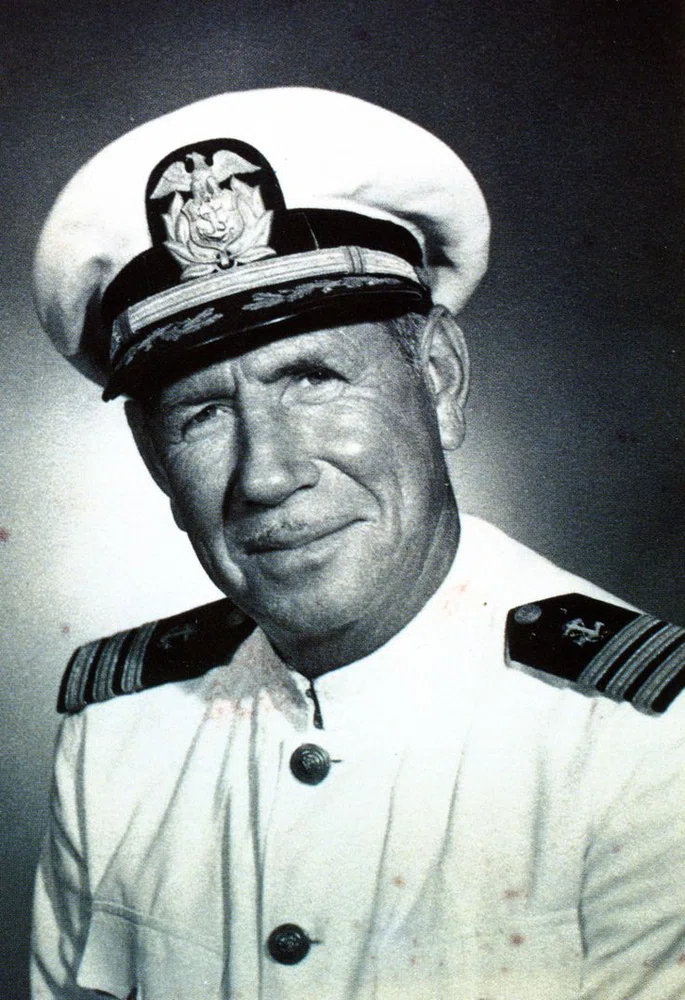 An event that would change everything
The attack on Pearl Harbor during World War II made the Hawaiian Islands home to thousands of soldiers.
This was a crucial event in the life of Jerry, who, due to his experience in the army, became definitively known under the pseudonym Sailor Jerry. He settled in the local Chinatown area, where fighters spent nights of drunken revelry before going off to war.
Many decided to get tattooed on those outings so that, in case of dying in battle, they could be recognized thanks to the tattoos they wore. Others were tattooed honoring, perhaps, the last moment on the battlefield, in the worst-case scenario.
It was at this time when Sailor Jerry became widely and quickly known.
In addition, when a sailor sailed over 5,000 miles (8,046.72 km), one of the ways to distinguish himself was by getting a swallow tattoo. Anchors also meant that a sailor had crossed the Atlantic or had achieved some stability.
Furthermore, the eagle, such a distinctive animal for American nationalist culture, became popular, especially at that time and thanks to Jerry's work.
From this event on, tattoos would not only represent life on the high seas, but would also become part of a typical patriotic recognition of combatants.
Inventions and influences in the world of tattooing
In his beginnings, Jerry tattooed with the hand-poke technique until he discovered the tattoo machine that changed the way he saw tattoos, as well as increased the different possibilities for tattooing and made much more varied designs.
Jerry was quite virtuous in several aspects, and, with the passage of time and the sum of his experience, he was fine-tuning his work tools by adjusting the power supplies and the machines themselves.
That is, he invented new ways to use the machines and configured the needles in such a way that they caused less damage to the skin. In addition, he was one of the first to use needles only once to make them disposable.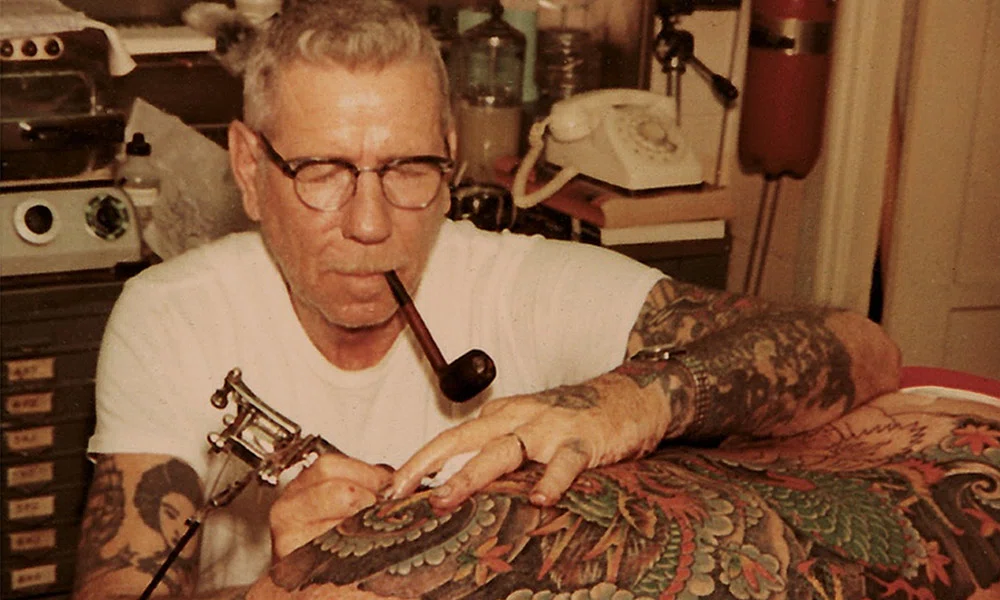 Jerry paid special attention to hygiene and was the first to use an autoclave sterilizer.
An autoclave is a hermetically sealed metal machine that works with very high levels of pressure and steam that is used to sterilize surgical instruments. Jerry paid special attention to hygiene and safety measures.
He also had a very significant contribution, by inventing purple ink!
In his trial and error experiments, he managed to consolidate an innovative pigment that does not generate a major negative impact on the skin.
Tattoo style
Thanks to his travels around Asia and his fascination for Japanese culture, he designed similarly, combining elements from the West and East.
Moreover, in Hawaii, Jerry kept in touch with teachers he met on his travels, such as the Horis and Asian tattoo artists.
Thanks to the exchange with masters of Asian culture, he incorporated advanced techniques such as the use of water-based shading and perspectives in the drawing.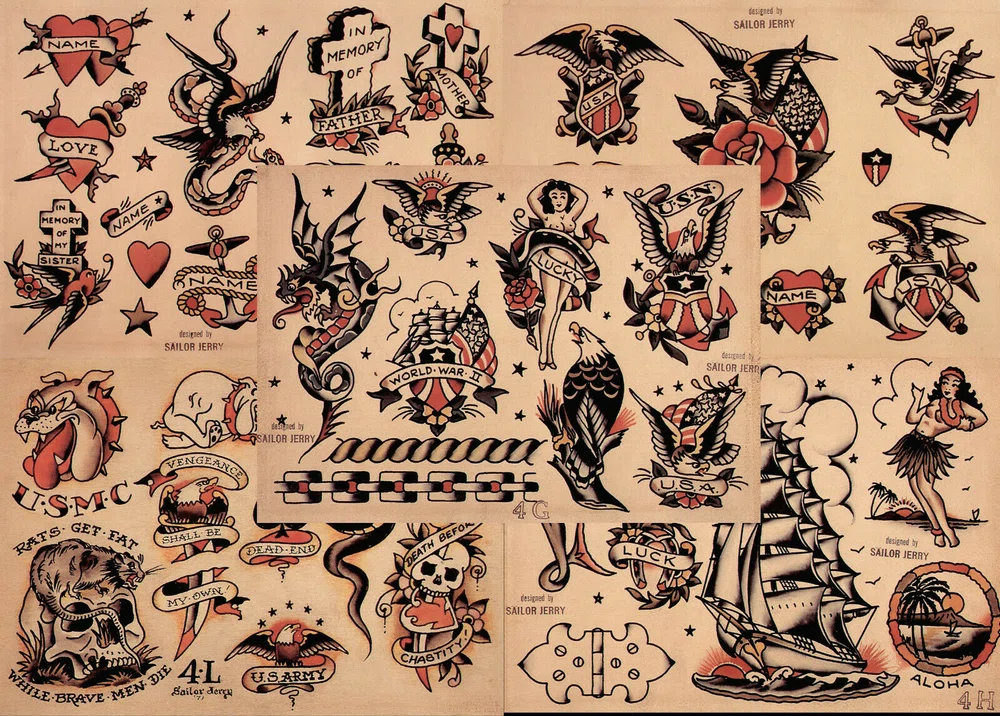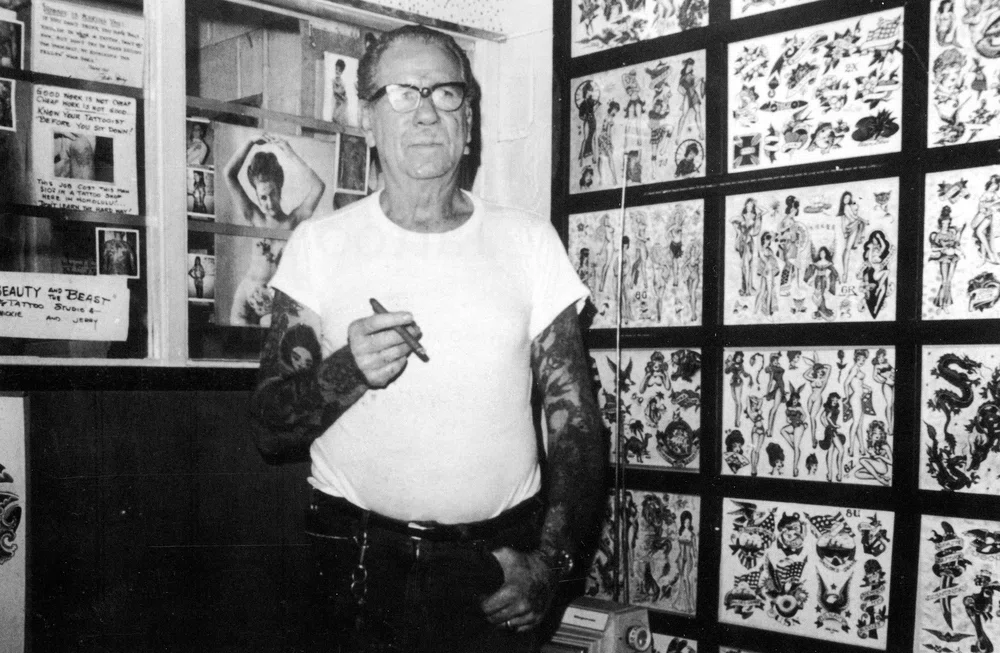 With the passing of time, he began to design his own tattoos in a very personal way, in such a way that he invented his style in the combination of the Japanese style called Horimono.
Jerry was obsessed with perfecting the tattoo and the style that was born thanks to his work from the clash of cultures, which mixed and innovated the traditional tattoo.
Many tattoo artists began to copy his designs and this really irritated him, he said that artists like him spend a lot of time designing, and he considered it unfair that others charged for it.
As we mentioned in these articles Tattoos and Copyrights and Tattoos and the Copycat effect, copying, and stealing designs still happen and often violate copyright.
For those who know Japanese art in tattoos, its influence on Jerry's designs is very noticeable. The use of strong contours, the type of shading and the colors, added to an excellent technique, make these tattoos resistant to the passage of time.
The style of Flash tattoos was, perhaps, something essential in his tattoos. If you want to know more, go to our post Flash tattoo, tattoos in a short time.
He also perfected a style of tattoos which he called "Feminigraphics" which were specifically intended for young women from the islands.
Not just a tattoo artist, but also a pioneer
Collins' life has been eventful in many ways. For those who are interested in the world of tattooing, they owe a lot to this artist who, in addition to being a tattoo artist, was an insatiable perfectionist and an American patriot.
His advances and his actions greatly changed the ways in which tattoos were considered, and we could say that Jerry is the father of the Old School style.
In his honour, a very popular style was developed: sailor tattoos.
So, if you are interested in tattoos and especially traditional tattoos, you should know that almost everything was born thanks to this artist.
Did you know Sailor Jerry? Drop us a comment!
Log in to leave a comment.
0 comments.