Best seller
How to tattoo Realistic Animals
Learn how to make it real from the experience of a Tattoo Master.
with Coreh López
WATCH TRAILER
You will access it immediately after enrollment (App, iPad & desktop)
36 lessons (+28 hours)
Resources in PDF
Unlimited access
Audio: English
Subtitles: English, Español, Français, Italiano, Deutsch, Português, Polski, Čeština
All levels
Access on mobile & desktop
Certificate of participation
Coreh López is sponsored by:
'Do you already know the difference between tattooing a cat and a tiger?'
They are the same… Right? That's what they say… This is probably one of the major deceits when it comes to tattooing Realistic Animals.
There was no quality training in the tattoo industry, that's why most tattooists merely focused on teaching technique.
Should fur be made with the Magnum on its side? Do I have to outline the whiskers? How much white ink is do we need in the fangs?
And then, sink or swim!
OK, but… how should tiger whiskers be tattooed, then?
If you're the kind of person who only finds interest in answering these technical questions; or who tends to believe that the most important thing about tattooing a leopard is knowing how to tattoo the spots right… The best would be to find comfort on any YouTube video.
Putting the cart before the horse is worthless! Well, in this case, the mane before the lion.
We are here to learn. For real.
View more
View less
Take a look at my last tattoos:
'The Ultimate Guide to Realistic Animals tattooing'
Despite what you may think, all realistic animals are tattooed following the same steps.
Should we start by working on the darkest or the lightest areas? Should hair be left for last?
There's always a right way to do it technically– although the methodology for tattooing a tiger, a rhinoceros or a zebra is different.
And so that you know how to do it, in this MasterClass I teach you how to tattoo realistic animals starting from the right design, the conversation with your client, the edition of the reference picture, and of course the steps to achieve it, either on synthetic or human skin... In order to do things correctly you must know what the correct way is.
Did you know that the best way of preparing whiskers stencils... is the simplest way?
What if your client can't provide you a good resolution picture of his pet?
View more
View less
¿What's included?
+36 lessons · 7 Workshops · Tiger Tattoo & white dog process · +28 hours · WorkBook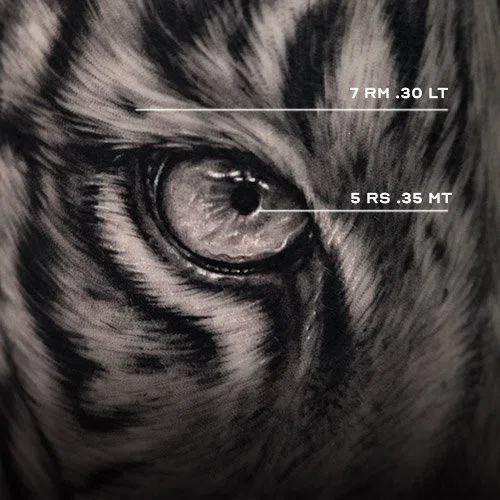 Tattoo Technique
Certify your effort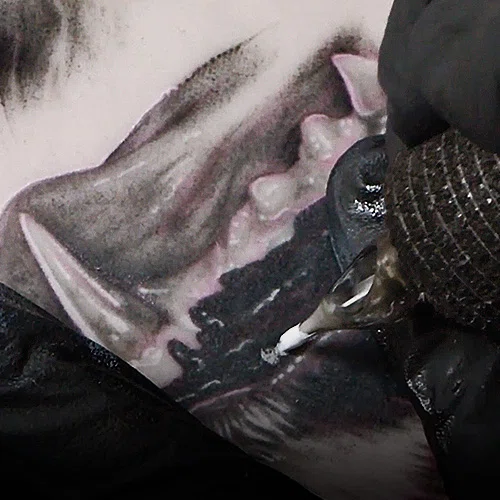 Practice Step by Step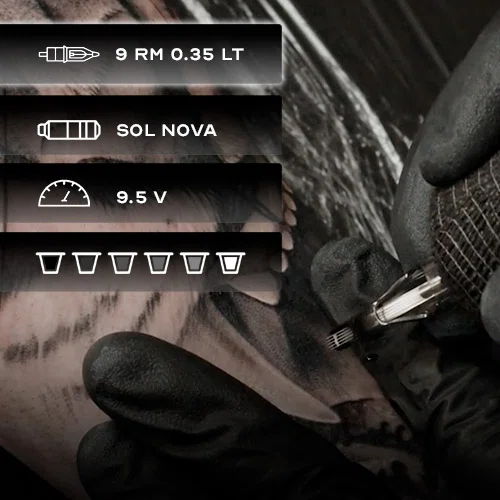 Tattoo HUD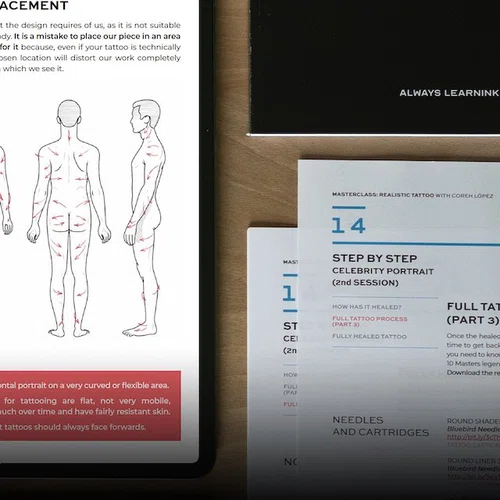 Learn at home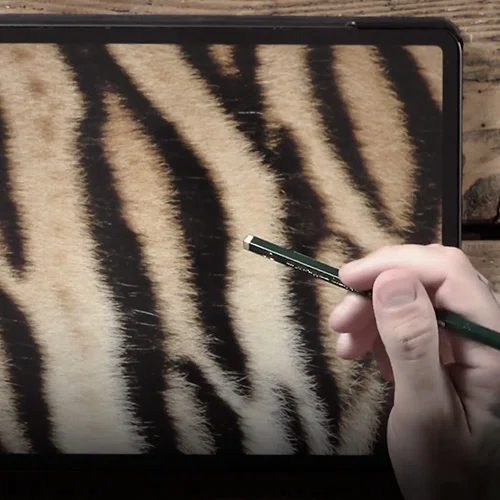 Animals Methodology
¡Updated!
1. REALISTIC TECHNIQUE WORKSHOP
12 classes · +7 hours · Quality: Full HD
'How should tiger's whiskers be tattooed?'
To make any kind of animal tattoo, first you must learn how to tattoo every section separately. Luckily for us, almost every animal has two eyes, one mouth, one nose, and fur.
In the advanced technique Workshop, you'll learn one step at a time how to make short and long fur, eyes, snouts, whiskers, fangs, tongues… In order to apply it on synthetic or human skin, depending on your level.
You'll be able to observe how I do it at all times and read the indications, to finally obtain the same result, at home.
Besides, if you send me your practice results, we'll share them on our social media, and you can brag about your evolution. Every once in a while, I'll update the course with an analysis of the best works of our students, so… No excuses!
Throughout these lessons, you'll learn:
View more
View less
2. METHODOLOGY AND TECHNIQUE
10 classes · +5 h · Quality: Full HD
"Let's start from the beginning..."
In this Master Class, I teach you the differences between a pet and a wild animal. Also, how to choose the perfect reference image and tricks for editing it, by analyzing one section at a time in order to achieve a higher level in your tattoos and your portfolio.
We've also included the Master Course's section called "Realistic tattooing technique" for you to learn everything you need to take into account when making lines, fillings, shadows, saturations, dot work and white highlights.
Throughout these lessons, you'll learn:
View more
View less
3. A STEP-BY-STEP TIGER TATTOO
Raw & uncut process · +6 h · Quality: Full HD
"Bigger is better"
In this Master Class, you can also witness a complete two-session tiger tattoo in the front row, which will be perfect to practice everything you've learned.
I'll teach you the necessary techniques to master realism even in the hardest parts, such as gums, teeth, whiskers… Plus, the methodology needed to successfully finish a tattoo that takes part of a full sleeve, made together with several artists.
This is where the platform scores brownie points because thanks to our 10 Masters HUD, you'll always know the ink, voltage, machine, and needle I'm using in real time.
What is more, a downloadable Workbook will be available with all the material, reference images and stencils I share with you throughout the course. And, of course, all along with my methods and techniques explained while I'm tattooing so that you can be ready for your next tattoos.
Throughout these lessons you'll learn:
View more
View less
New Update!
4. HOW TO TATTOO A WHITE DOG
Raw & uncut process · +6 hours · Quality: Full-HD
'A white animal is tattooed using white ink?'
After the success of the tiger tattoo process (included in this course) and several requests of the students, we have developed this complete process for you to take your animal tattoos to the next level, focusing on the most advanced techniques and how to tattoo white fur.
Through an uncut step-by-step process with ultra-close recordings during each stroke, you will learn:
View more
View less
5. TATTOO REVIEW AND HEALING PROCESS
3 lessons · +3 h · Quality: Full HD
'How a crocodile should be tattooed?'
Apart from watching the whole healing process of the tiger tattoo week after week, and by analyzing every stage of the healing process… In this episode, you'll learn a few more extra tips and interesting facts from my top 10 animal tattoos; which will help you make your clients as satisfied as mine.
Throughout these lessons, you'll learn:
View more
View less
5 available templates · Verification QR code
We all like showing how we're constantly learnink. Your clients like seeing it too. That's why our 10 Masters Certificate, which you'll receive when you finish the course, includes a QR code to verify that you've learnt with me. Plus, you'll be able to choose between 5 different templates - so it fits your studio's style.
Easy-to-watch Video Lessons
You'll complete the MasterClass at your own pace - Lifetime available
10 Masters is an Online Learning Platform that allows you to watch or listen to video lessons from the world's best tattoo artists.

With 10 Masters you can learn something anytime, anywhere, at your own pace. It is available on your smartphone, iPad or personal computer.

Access is easy: once you have enrolled in a course, visit your 10 Masters profile and there it will be waiting for you, ready to be completed.

Tattoo Hud®
So that you know which dilutions, needles, machine, or voltage I'm using in real time.

Full HD videos & Super Zoom
So you can see the tattoo in detail, as if it was right in front of your eyes (or closer)

E-book/Workbook in PDF
These are supporting documents that will guide you during the main course and give you extra content lessons.

Unlimited Access
This course doesn't expire. Learn without time limits, at your own pace.

MONEY-BACK GUARANTEE
You can try 30% of the course. If it doesn't fit your needs, contact us and we'll refund your money. No questions asked.

100% English Audio
Captions, subs & all the resources are available in English, Spanish & French too.
If you have any questions about the MasterClass, you can get in touch with us filling out our contact form
Frequently Asked Questions
How do I access the course? When does it start?
Is there any guarantee? How i know this is legit?
¿What's the difference between this MasterClass and the MasterCourse: Realistic Tattooing?
¿Qué pasa si tengo dudas?
How long does the training last? Can I watch it more than once?
I would like to do it, but I can't afford it
Is the platform difficult to use?