How to create an impressive digital tattoo portfolio
Tips for showcasing your art in a captivating and effective way
28 November 2023
Standing out in the world of tattooing isn't easy with the market expansion and the abundance of tattoo professionals. But it's not easy for clients either...
Imagine being in your client's place; how do they choose an artist? How do they know who's the best fit for their tattoo? How can they be sure it's the right person?
Putting ourselves in the shoes of those seeking our service helps us understand what they expect and how we can provide it.
Ultimately, both sides want the same thing: to find someone who meets their expectations and provides a great experience. Don't you also want to find your ideal client, someone who gives you the confidence and freedom to bring out the best in you as an artist?...
Today, we'll advise you and guide you step by step to make the most of the tool that helps you connect with your potential clients.
Shall we?
Advantages of a well-crafted tattoo portfolio
A tattoo portfolio is like your calling card; it's your chance to showcase your skills, your personal tattoo style, and your ability to master various techniques and themes. It's your visual reference, but most importantly, it's your best ally in attracting clients since it's the first thing they usually look at when searching for someone to ink them for life.
In other words, it's not just a display and dissemination tool; it's also a promotional resource. That's why having it well-worked is crucial, as it directly impacts your service's sales.
Today, you have several options, from social media to specific art platforms, and why not? Even a website of your own.
Overall, the space you have nowadays to showcase your work is incomparable to what it used to be when only print options existed. And while a significant portion of your clientele may come to you in person, you never know who might be researching you online...
So, why not make the most of this tool and create an appealing exhibition of your art?
Here's how you can do it!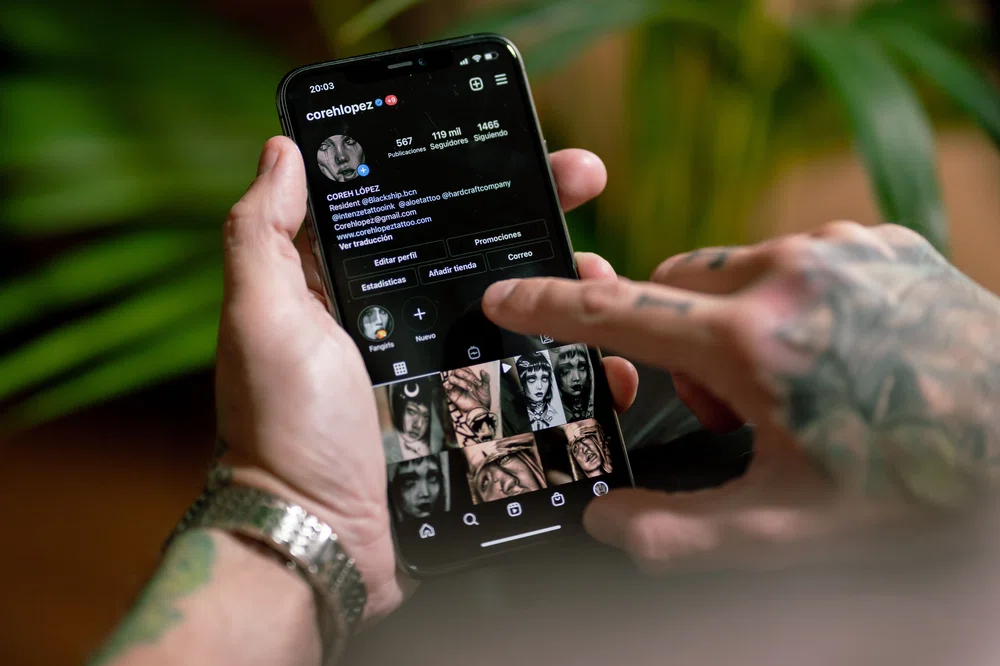 How to create an online tattoo portfolio step by step
1) Define how you want your work
to be known

You don't need to be an expert in content creation to manage an account, but considering your options carefully is always a good idea. When it comes to social media, you must make a choice:
A) Seizing your personal account followers to build a solid personal brand.
Showing yourself to your audience can be very advantageous because it helps build trust and better connect with potential clients.
We live in an increasingly digital world, but the truth is we like to feel closer to people, even if it's through a screen. That's why showing yourself can help humanize your tattoo business by showing that there's a real and relatable person behind it with whom they can identify.
Moreover, tattooing is all about connecting with people, and your interaction with clients will always be essential to get them to come back for more ink. So, being open on your social media with humility and showing that you're not a rock star but a down-to-earth person usually gets a good reception.
Pro tip: Sharing your story and relevant experiences related to your work helps create a special bond with your audience.
This is just a suggestion, but how you do it depends on your preferences.
Many people use the same personal account, but it's also practical to have a professional account solely dedicated to showcasing your work and addressing inquiries.
B) Separating your personal self from your work and creating a professional profile
Creating a new public account exclusively for professional content is very useful, especially if your personal account is too informal and you prefer to keep a low profile.
If you choose this path, some strategies can be beneficial for connecting with your audience and going the extra mile.
This can apply to both options since sharing extra content that shows your commitment to your followers and offers more than just tattoos always adds points and helps you stand out because you're doing things differently.
2) Share more than just tattoos
Whether it's designs, illustrations, sketches, or any other art you practice, displaying them can be captivating and appealing.
The same goes for creative content like tattoo time lapses, super zooms of your art, or more sensory content. Also, interesting details about your work process or any special techniques, perhaps something you recently learned and want to share, etc...
All this alternative and different content from the typical tattoo images usually grabs attention and keeps people entertained.
Pro tip: Sneak peeks of tattoos, ongoing projects, creative processes, and anything that shows how you work tends to boost engagement. Seeing something take shape usually captivates us all.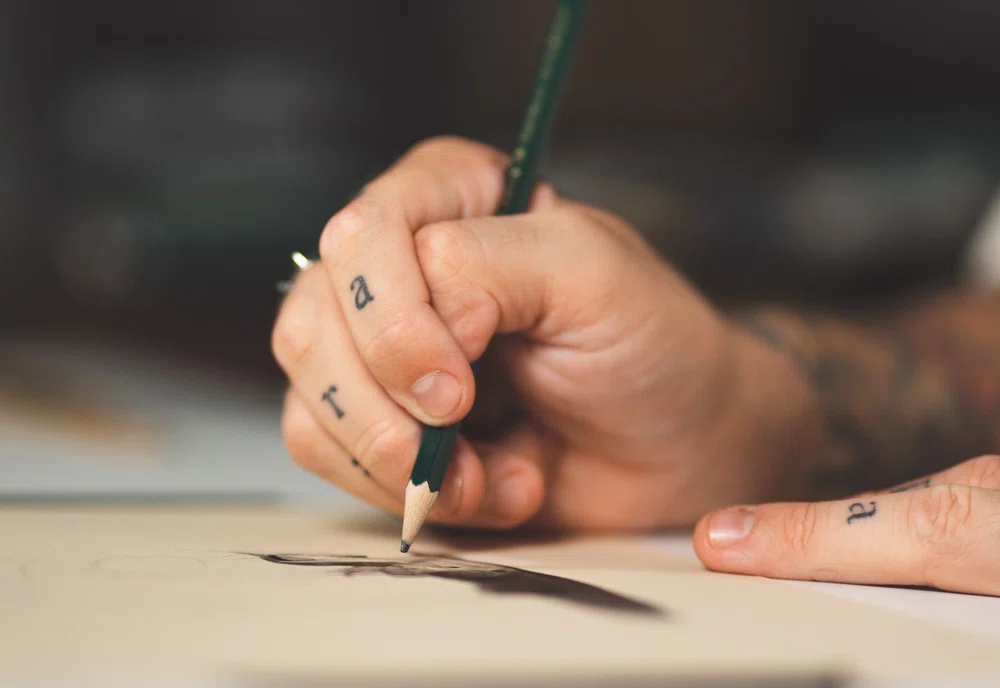 3) Don't post every tattoo you do
Stick to a selection of the best ones, and don't go overboard with the number of images because instead of helping your potential client, you could overwhelm them and send them away before they even see your best work.
Less is more when it comes to making an impression. Remember: Quality over quantity.
Pro tip: choose designs that resonate most with the style you'd like to specialize in or feel most comfortable tattooing.
4) Don't post just any good tattoo
The pieces you select will depend on your professional stage.
Naturally, when you're just starting out, you need to demonstrate that you can master the art of tattooing, so consider uploading a collection of well-executed tattoos. Given the case, include a variety of styles, techniques, and themes, and avoid the very first ones.
Keep in mind that what you post will be associated with you.
If there's a specific tattoo you didn't enjoy doing for some reason, even if it's good, it's best not to upload it. Why? Because they'll probably request something similar to what they see, you'll have to figure out how to say no to a tattoo you don't want to do.
Now, if you're in a more advanced stage of your career and have already chosen a particular style, selecting only the works that illustrate it is best. While it's great to show that you've been tattooing for years and have undergone a significant transformation, the client is more interested in what you can do now than your journey.
Don't forget that your portfolio is still a sales tool.
Pro tip: if you occasionally want to showcase your versatility with different or smaller jobs, you can use your temporary stories to share those out-of-the-box commissions on Instagram.
Regardless of your skill level, first, define what types of tattoos you prefer to do, and then post accordingly.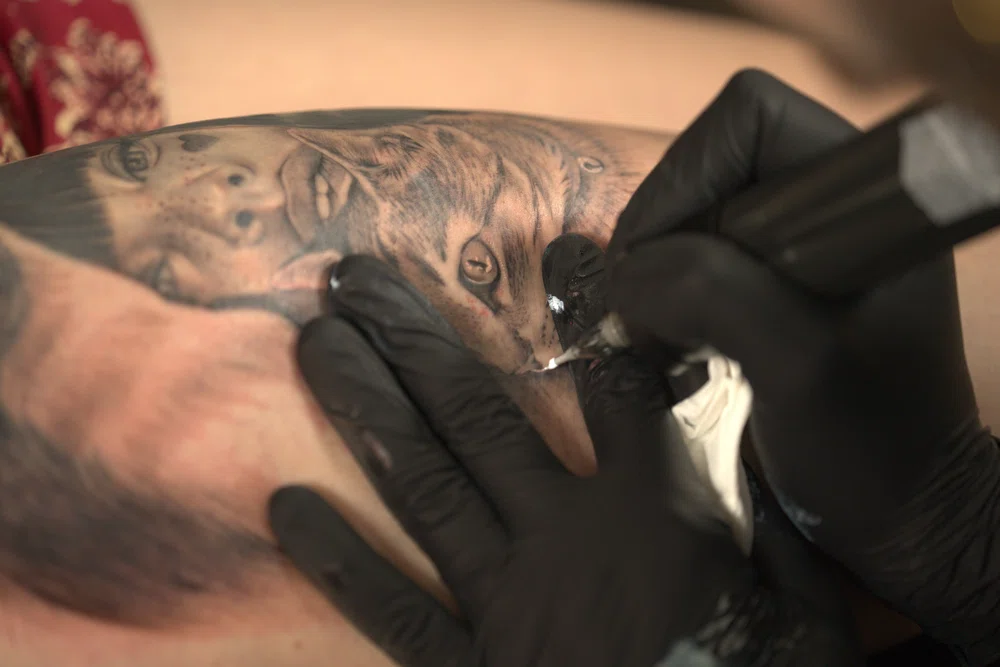 5) Choose only high-quality photos
Tattoos enter through our eyes, so a good presentation is essential.
Remember that how they see it in the photo is how they will imagine the results. So, when capturing your tattoos, focus and illuminate them correctly.
Using a polarizer is allowed, but be careful with excessive retouching; it's not a good idea to deceive about what you can do!
Should you have doubts about how to light your images more effectively, here's a post we've prepared with 4 useful products to get photos that do justice to your tattoos.
6) Keep your portfolio up to date
We understand how challenging it can be to find time to keep your portfolio up to date when your schedule is packed, but don't let that limit you from uploading new work occasionally.
Keeping your artistic showcase current is crucial, especially to project a fresh and dynamic image of your work.
You wouldn't want to give the opposite impression due to excessive work and make it seem like you're inactive.
Block out one day a week or create the system that suits you best, but allocate at least some time in your schedule to keep your portfolio up to date. And if you find that time is scarce, remember that you can also use those slow tattooing seasons to catch up on your portfolio and social media.
Pro tip: archive those older tattoos that no longer represent your best work. A fresh portfolio reflects your ongoing evolution. If you're proud of your progress, remember that you can always use stories to include 'Throwback-Thursday' or 'Flashback-Friday' type of content.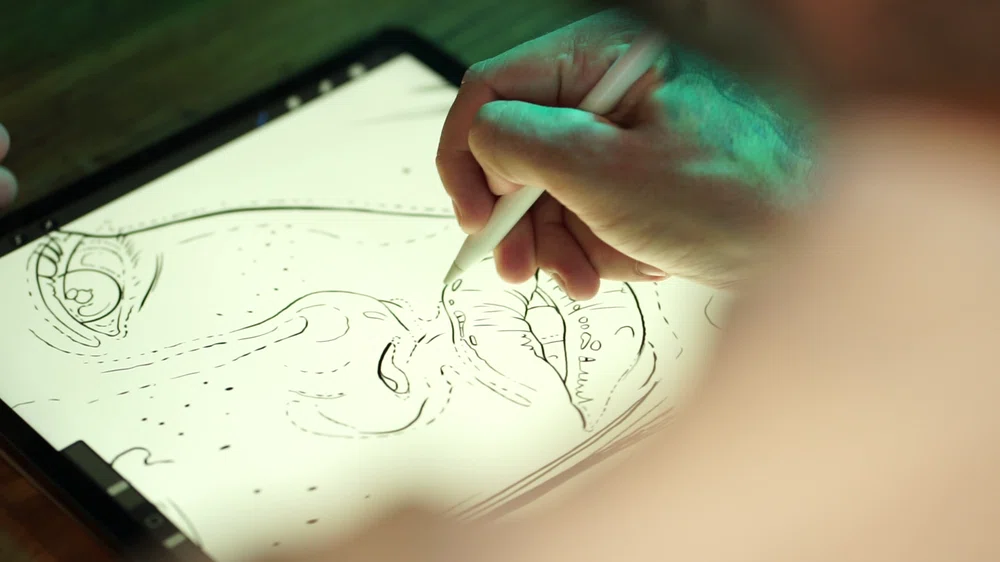 7) Keep your portfolio well-organized
How you use it depends on the platform where you showcase your art.
In social media, there's little space to play around with except for highlights and a few creative tricks in the feed. Besides, there aren't many navigation options, and the display is chronological.
In contrast, a website offers much more creative, versatile, and beneficial ways to promote and showcase your tattoos.
In general, a website has many advantages. So, if you can have your own, organize it coherently, either by style, theme, or other criteria. This makes it easier for users to navigate. You can also provide guiding menus or even add a search option.
Plus, the possibilities for customization are much broader and flexible. Not to mention, you're not subject to the whims of algorithms. Your house, your rules!
8) Lean on colleagues in the field
Sometimes, we need specific references to feel we're on the right path. Feeling this way about your portfolio is entirely normal and valid.
Don't hesitate to draw inspiration from others, and investigate how artists you admire handle their portfolios. But if you do this, always adapt it to your own style and never stop adding your personal touch.
Also, don't be afraid to ask for opinions and feedback on your portfolio. Other colleagues can provide a different perspective and help you identify areas for improvement.
In the tattoo world, first impressions count too
A portfolio is an essential visual reference for any tattoo professional looking to showcase their work and attract clients in the digital age. It allows you to display your style, range, and skills, build your reputation and establish yourself as an artist.
Like it or not, your portfolio is the first thing potential clients know about you.
That's why, when creating it, it's always worth dedicating as much time and effort as possible to ensure it reflects your approach and creativity as a tattoo professional.
So, if you feel your portfolio needs improvement or need a push to create one for the first time, follow these step-by-step tips and turn your calling card into an impressive visual reference. But don't forget the most important thing: have fun while doing it! It's the best way to tackle such a complex yet essential task.
The best way to impress with your portfolio is by integrating original designs that stand out and reflect your unique signature, which they can't find elsewhere and something you can only achieve through drawing.
Interested in honing your drawing skills to take your pieces to the next level? We have the perfect solution for you: MasterCourse: Realistic Tattooing with Coreh López.