Beginner Tattoo Kit
Basic elements for tattooing
20 February 2023
When you start tattooing, selecting the elements to work with can be challenging.
You need to figure out where to start, what you should choose, what is most recommended, and what best suits your needs.
Don't panic. Here we will give you different options to pick your first machines and the basic and essential equipment.

Essential elements of a tattoo kit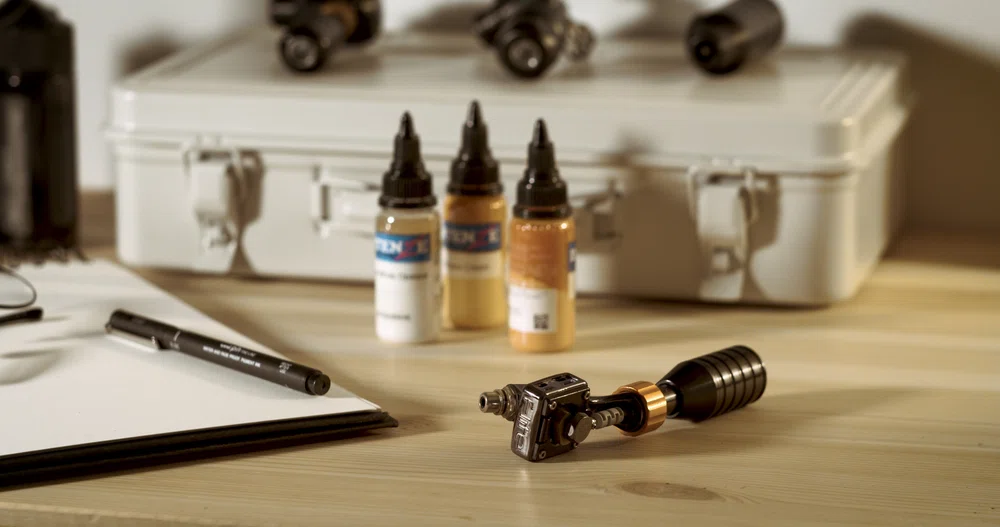 On the market, you will find different tattoo-prepared kits. But you must first analyse what they include and if they are what you need.
Some kits may not be completed and may include only a few items.
We have listed the essential components you should have.

1- Type of machine
Some tattoo artists prefer to work with only one model. Others prefer more variety in their studios. This will always be up to your preference and, above all, to your budget.
To learn more about the types of machines and their characteristics, read the article about Types of tattoo machines to know everything.

2- Types of disposable needles and cartridges
Depending on your chosen machine, you should buy traditional or cartridge needles, special for Pen-type rotary machines.
Some tattoo artists highly recommend cartridges because they are easier to disinfect and can prevent cross-contamination. But alert, this always depends on the cartridge model and its manufacturer.
To learn more about the types of needles, you can read our Tattoo needle guide to learn more about the types of needles.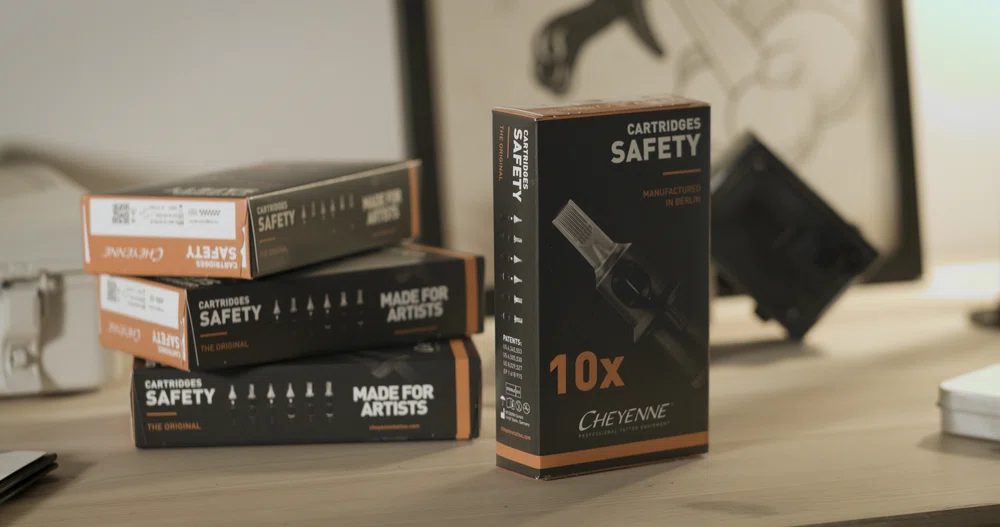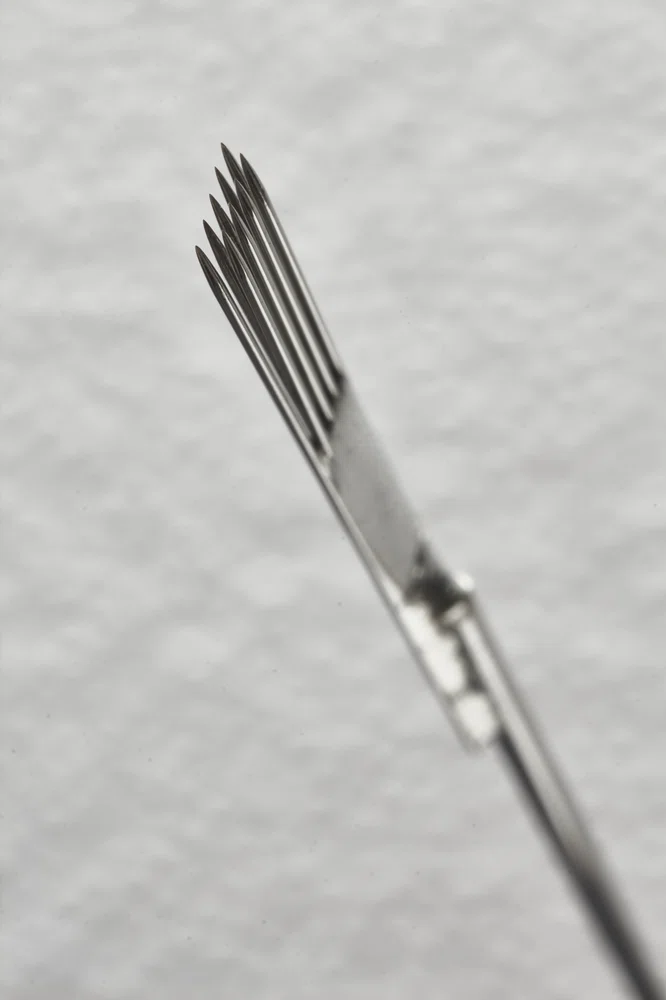 3- Power supplies
The power supply is responsible for giving electrical energy to the machine and regulating its power. There are many models: analogue and digital, and wireless.
When selecting them, you should research and ask tattoo artists and colleagues which power supply works best for them. Why do we say this? Because not all power supplies behave the same way, and not all are 100% reliable.
But if you use wireless tattoo machines, you can find different options, such as battery-powered wireless power supplies.
To clear doubts, you can read on Power supplies for tattooing: tips to choose them, to know it all.

4- Cables
If you prefer cabled machines, you will find two types: RCA and Clip cords.
The difference between the two is their termination and their type of connection, which will be designed for one machine or another.
Once you know the type of cable you require when buying it, select a good one. This is important because it will ensure a useful life, and you will not have to buy one every time.

5- Inks
Some kits include the primary colours and black and white.
But if you have to buy them separately, we recommend choosing black inks and thinners. This must be included in a tattoo artist's kit. Black inks are the most used in almost all styles.
Thinners will help achieve better results without using pure pigments.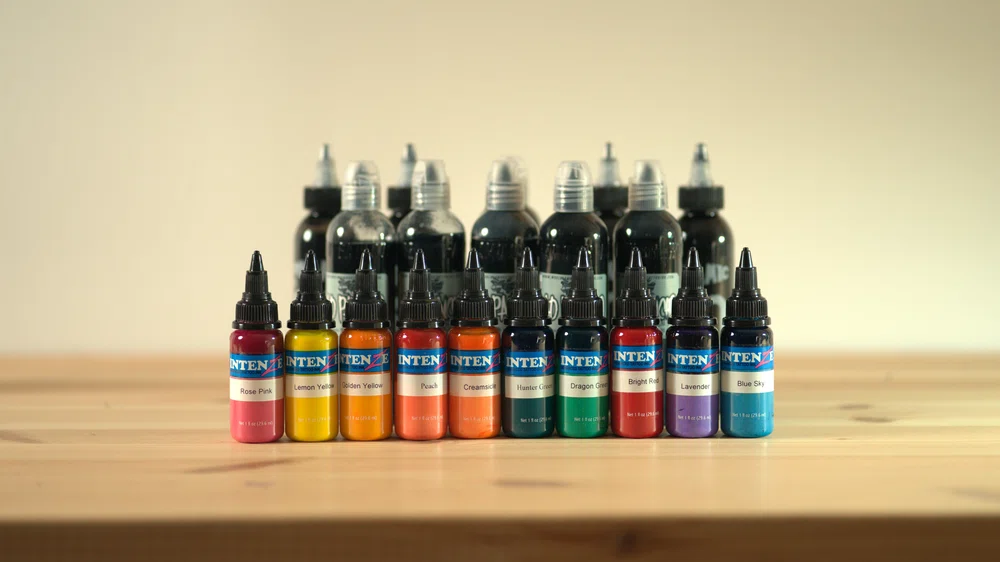 6- Thermocopier and stencil paper
The thermal copier is a handy device most tattoo artists use in their studios. This is used to print the design to the stencil safely and practically. Its accuracy in transferring lines and drawings makes it the preference.
The paper you need to make the templates is called hectographic paper, and you can get it at any tattoo shop. If you want to know more about this, you can read our article From drawing to stencil: how to make your templates, where we explain step-by-step how to make transfers.

7- Synthetic leathers.
To start tattooing, you must include these skins in your tattoo kit. These are plastic materials with a human-like texture that you can (and should) practice on this surface before puncturing customers. To know more, read our article aboutSynthetic skins for tattooing.

8- Disposable elements
Every tattoo artist must work with many disposable and single-use items, which is essential to guarantee safety and hygiene.
In this section, we have:
Nitrile gloves. You will see that there are disposable latex gloves, but they are not recommended since many people are allergic to this material. On the other hand, nitrile gloves are hypoallergenic.
Cling film. With this, you will cover all surfaces
Ink containers.
Machine cover. Plastic covers protect all types of machines and their cables for maintaining a sterile barrier between viruses and bacteria and your client's skin.
Grip wrap to hold the cover and grip on your machine.
Razor blades.
Kitchen paper.
Vaseline and tongue depressors.
Stencil paper. The product is placed between the skin and the stencil to transfer the design.
9- And finally, sterilisation and hygiene elements
Here, we will include all the hygienic products you should consider when putting together your tattoo kit.
Antibacterial soaps.
Common alcohol and isopropyl alcohol.
Disinfectant towels.
Mask to cover your face while tattooing.
Surgical drapes. These can be obtained at any tattoo shop and pharmacy, and you can use them to place all the disinfected elements.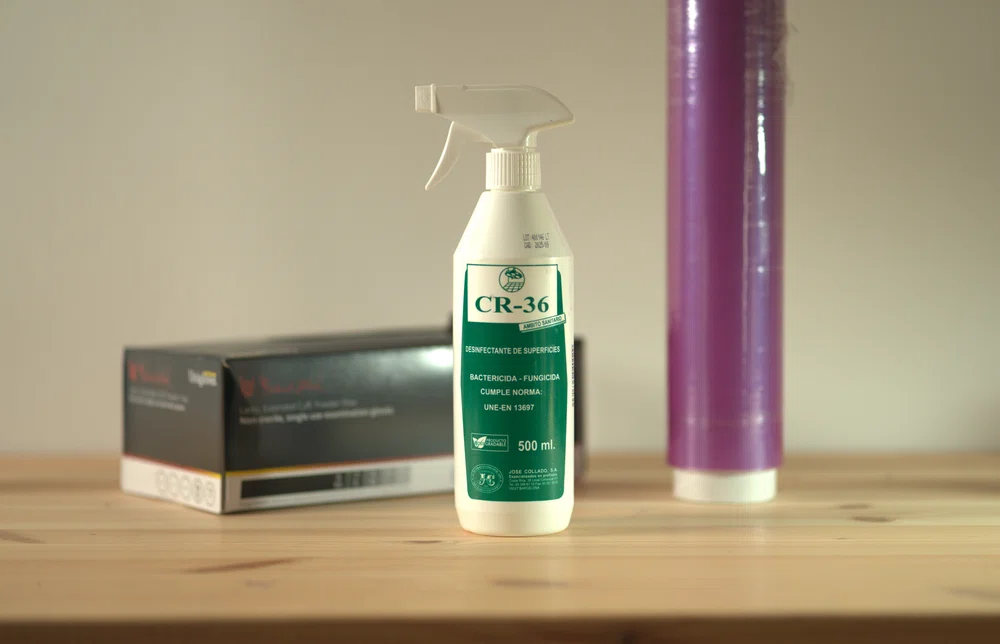 How to choose the best tattoo kit?
As mentioned, a good tattoo kit will be the most complete.
You should always select the machine first; from there, you will choose the other elements and accessories you need.
You will see that many kits are already prepared with synthetic skins, cable, power supply and inks. Always remember to do some research on the types of machines and then implement your criteria.

The more expensive the kit is, the better?
Of course not. Price does not always ensure quality or accurate utility. You can find kits of all prices on the market, but our advice is not to use that as the only guide.
First, ask yourself, "what do I need, and what do I need it for?" These two questions are fundamental tools to define the criterion.
More expensive is not always better.
If you require supplemental information, don't hesitate to contact us!